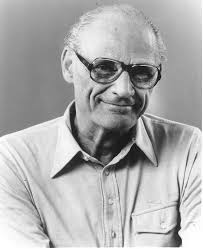 In advance of what would have been Arthur Miller's 105th birthday, the Library announces the acquisition of his personal library
The New York Public Library has acquired by gift, and through the generosity of his family, Arthur Miller's collection of his published plays, books, translations, anthologies, and other publications relating to his work in various editions, comprising 692 volumes in total.
Along with editions of his writings in English, the acquisition includes an extensive collection of translations into many European languages, plus Arabic, Hebrew, Japanese and others. Several are inscribed with his name and other occasional annotations.
Miller's collection also contains essays, theatrical analysis and commentary, audio cassettes, magazines, and other ephemera, spanning the years 1928 – 2012. Also represented are a small number of works by other authors, among which four scripts by playwright Harold Pinter are of particular note.
The books will be added to the Henry W. and Albert A. Berg Collection of English and American Literature, which contains some 35,000 printed volumes, pamphlets, and broadsides, and 2,000 linear feet of literary archives and manuscripts, representing the work of more than 400 authors. The Berg has long collected books from the libraries of significant authors and literary figures, such as Vladimir Nabokov, Jack Kerouac, Lady Gregory, and Kenneth Koch. 
Other highlights of the acquisition include:
Personalized copies of Miller's books – including a 1951 edition of An Enemy of the People, inscribed to Marilyn Monroe, and a 2001 edition of On Politics and the Art of Acting to Inge Morath.
Extensive translations of Miller's work, including nine translations of The Crucible (Chinese, English, French, German, Italian, Norwegian, Portuguese, Romanian, and Spanish).

"Death of a Salesman in Scandinavia" – a box of newspaper clippings, theatre programmes, and other ephemera primarily related to a touring production 1949-1950.
"The New York Public Library is thrilled to add Arthur Miller's study library to the Berg Collection, and to further enrich its holdings of one of America's greatest playwrights," said Declan Kiely, Director, Special Collections and Exhibitions. "Arthur Miller's plays transformed American theater in the years following the Great Depression and World War II, and the influence of his New York City upbringing is visible in some of his most acclaimed works, including Death of a Salesman and A View from the Bridge."
"The New York Public Library is the perfect place to house Arthur Miller's personal library. These are books which lived in the shelves lining Arthur's study, and which he read and handled regularly in his life; they are books that have been loved," said the Miller family. "We could not be happier to know that Arthur's precious collection is housed in the New York Public Library, and now belongs to the people of the great city that raised him.
The Arthur Miller Library strengthens the Berg Collection by significantly expanding its representation of American drama and providing a meaningful cornerstone on which holdings in this area can continue to be built. This acquisition of this collection additionally complements the Library's holdings of photographs, technical drawings, recordings, and other material related to the production of Miller's plays at the Library of the Performing Arts. 
Arthur Miller (1915 – 2005) was an American playwright and essayist. Born in New York City, he began writing while a student at the University of Michigan, and was established as an important writer when his play All My Sons won the New York Drama Critics Circle Award in 1947. Significant themes in Miller's work include Jewishness, suffering, and heroes staying true to their moral choices in the face of pressure from their communities. Other major works by Miller include Death of a Salesman (1949); an adaptation of Ibsen's An Enemy of the People (1950); The Crucible (1953); A View from the Bridge (1955), which won Miller his third Drama Critics Circle Award; After the Fall (1964), his first play after a nine-year hiatus; and The Price (1968). Miller also wrote the screenplay for the 1961 movie The Misfits, starring Clark Gable and Miller's then-wife Marilyn Monroe. Miller's autobiography, Timebends: A Life, was published in 1987.