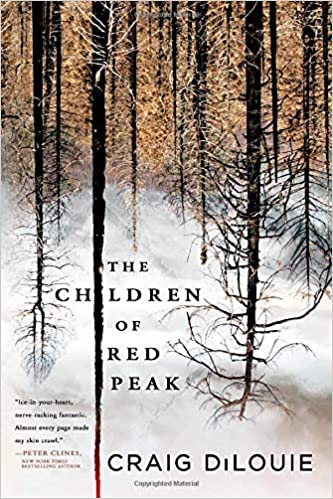 The survivors of a doomsday cult's horrific last days reunite to confront their past and the entity that appeared on the final night.
Craig DiLouie's The Children of Red Peak examines belief, madness, and trauma in a psychological and supernatural horror novel Publisher's Weekly calls a "chilling story of cult abuse… Horror readers will be hooked."
David Young, Deacon Price, and Beth Harris live with a dark secret. As children, they survived a religious group's horrific last days at the isolated mountain Red Peak. Years later as adults, the trauma of what they experienced never feels far behind.
When a fellow survivor commits suicide, they finally reunite and share their stories. Long-repressed memories surface, defying understanding and belief. Why did their families go down such a dark road? What really happened on that final night?
The answers lie buried at Red Peak. But truth has a price, and escaping a second time may demand the ultimate sacrifice.
With appeal to fans of horror like IT and Netflix's The Haunting of Hill House, The Children of Red Peak probes the dark side of the human search for meaning.
"Gripping, thought-provoking, and suspenseful, Craig DiLouie's latest is a master study of darkness and light and the meaning of life," notes New York Times bestselling author Richard Chizmar (Gwendy's Button Box).
"Absolutely riveting," says J.D. Barker, internationally bestselling author of "She Has a Broken Thing Where Her Heart Should Be. "A tapestry of past and present come together in this chilling tale of family, faith, and redemption."
ABOUT THE AUTHOR:
Craig DiLouie is an American-Canadian writer of speculative fiction. His works have been nominated for major literary awards, translated into multiple languages, and optioned for screen adaptation. He is a member of the Horror Writers Association, Science Fiction  Fantasy Writers of America, and International Thriller Writers. Learn more about Craig and The Children Of Red Peak at www.CraigDiLouie.com.