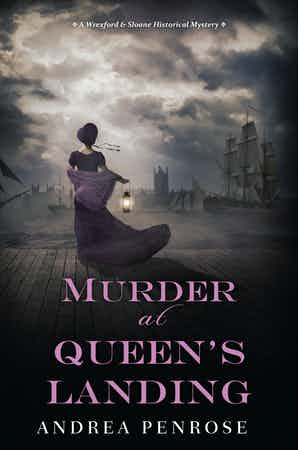 Murder at Queen's Landing A Captivating Historical Regency Mystery
A Wrexford & Sloane Mystery #4
by Andrea Penrose
The murder of a shipping clerk…the strange disappearance of trusted friends…rumors of corruption within the powerful East India Company…all add up to a thrillingly dark mystery…
 
When Lady Cordelia, a brilliant mathematician, and her brother, Lord Woodbridge, disappear from London, rumors swirl concerning fraudulent bank loans and a secret consortium engaged in an illicit—and highly profitable—trading scheme that threatens the entire British economy. The incriminating evidence mounts, but for Charlotte and Wrexford, it's a question of loyalty and friendship. And so they begin a new investigation to clear the siblings' names, uncover their whereabouts, and unravel the truth behind the whispers.
As they delve into the murky world of banking and international arbitrage, Charlotte and Wrexford also struggle to navigate their increasingly complex feelings for each other. But the clock is ticking—a cunning mastermind has emerged . . . along with some unexpected allies—and Charlotte and Wrexford must race to prevent disasters both economic and personal as they are forced into a dangerous match of wits in an attempt to beat the enemy at his own game.
You can purchase MURDER AT QUEEN'S LANDING at:
Kensington Books & Retailers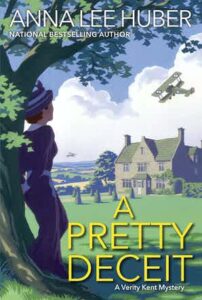 A Pretty Deceit — A Verity Kent Mystery #4
by Anna Lee Huber
In the aftermath of the Great War, the line between friend and foe may be hard to discern, even for indomitable former Secret Service agent Verity Kent, in award-winning author Anna Lee Huber's thrilling mystery series.
Peacetime has brought little respite for Verity Kent. Intrigue still abounds, even within her own family. As a favor to her father, Verity agrees to visit his sister in Wiltshire. Her once prosperous aunt has fallen on difficult times and is considering selling their estate. But there are strange goings-on at the manor, including missing servants, possible heirloom forgeries, and suspicious rumors—all leading to the discovery of a dead body on the grounds.
While Verity and her husband, Sidney, investigate this new mystery, they are also on the trail of an old adversary—the shadowy and lethal Lord Ardmore. At every turn, the suspected traitor seems to be one step ahead of them. And even when their dear friend Max, the Earl of Ryde, stumbles upon a code hidden among his late father's effects that may reveal the truth about Ardmore, Verity wonders if they are really the hunters—or the hunted . . .
You can purchase A PRETTY DECEIT at:
Kensington Books & Retailers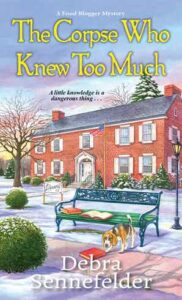 The Corpse Who Knew Too Much — A Food Blogger Mystery #4
by Debra Sennefelder
Food blogger Hope Early takes on a cold case that's heating up fast . . .
Building on her recipe for success with her food blog, Hope at Home, Hope is teaching her first blogging class at the local library in Jefferson, Connecticut. She's also learning about podcasts, including a true-crime one called Search for the Missing, hosted by Hope's childhood friend, Devon Markham. Twenty years ago on Valentine's Day, right here in Jefferson, Devon's mom disappeared and was never found. Finally Devon has returned to solve the mystery of what happened to her mother—and she asks Hope to help.
The next day Hope discovers Devon's apartment has been ransacked. Her laptop with the research on her mother's cold case is missing, and Devon is nowhere to be found. When her friend's body is later discovered in a car wreck, Hope is convinced it's no accident. Clearly, Devon was too close to the truth, and the cold-blooded killer is still at large in Jefferson. Now it's up to Hope to find the guilty party—before the food blogger herself becomes the next subject of another true-crime podcast . . .
Includes Recipes from Hope's Kitchen!
You can purchase THE CORPSE WHO KNEW TOO MUCH at:
Kensington Books & Retailers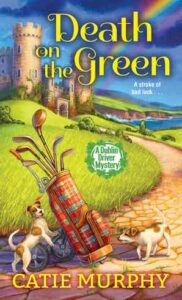 Death on the Green — The Dublin Driver Mysteries #2
by Catie Murphy
As an American in Dublin, limo driver Megan Malone will need the luck of the Irish to avoid a head-on collision—with a killer . . .
Life has been non-stop excitement for American Army veteran Megan Malone ever since she moved to Ireland and became a driver for Dublin's Leprechaun Limousine Service. She's solved a murder and adopted two lovable Jack Russell puppies. Currently, she's driving world-class champion golfer Martin Walsh, and he's invited her to join him while he plays in a tournament at a prestigious Irish locale. Unfortunately, there's a surprise waiting for her on the course—a body floating in a water hazard.
Everyone loved golfer Lou MacDonald, yet he clearly teed off someone enough to be murdered. Martin seems to be the only one with a motive. However, he also has an alibi: Megan and hundreds of his fans were watching him play. Now, with a clubhouse at a historical lodge full of secrets and a dashing Irish detective by her side, Megan must hurry to uncover the links to the truth before the real killer takes a swing at someone else.
You can purchase DEATH ON THE GREEN at:
Kensington Books & Retailers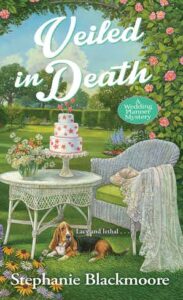 Veiled in Death — A Wedding Planner Mystery #6
by Stephanie Blackmoore
Wedding planner Mallory Shepard doesn't have time to organize her own nuptials—because right now she's engaged in solving a murder . . .
 
When Mallory discovers some old lace at a Port Quincy antique shop, she knows it'll make a perfect headpiece. But she's barely gotten it out of the store before Helene Pierce tears it from her hands. Helene claims it's a family heirloom that went missing when her late husband died in a hit-and-run twenty-five years ago.
The conflict gets more complicated when the veil is attributed to none other than famed seamstress Betsy Ross. Mallory may have a genuine museum piece on her hands, but meanwhile Independence Day is right around the corner and she has to host the town's Revolutionary War re-enactment. Then it becomes clear there's a bigger mystery behind all this history when a local woman is murdered with a musket—and Mallory's investigation could set off some fireworks . . .
You can purchase VEILED IN DEATH at:
Kensington Books and Retailers