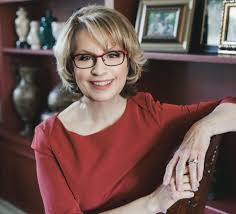 Secrets Behind the Words with Barbara Hinske
Authors are advised to "write what you know." I've done that instinctively in my Rosemont series. Rosemont is a stately, stone manor home, complete with six fireplaces, mullioned windows, and an attic filled with forgotten treasures. Almost a character in itself, Rosemont is the site for everything from quiet reflection to intimate weddings to large community celebrations.
Rosemont is loosely based on my own historic home. Although not nearly as grand as Rosemont—I have two fireplaces rather than six and my attic contains only an old boiler and dozens of dead bugs — my home has inspired many of the scenes in my series.
In chapter one of Coming to Rosemont, Maggie Martin steps over Rosemont's threshold and:
"Even in the gloomy light of a stormy dusk, the beauty of the house overwhelmed Maggie, and she knew, for perhaps the first time in her life, that she was home. And that nothing would ever be the same again." Coming to Rosemont
My husband and I first stepped through the front door of our home on a dark, stormy late afternoon in February. It had just come on the market. The house was vacant and the utilities had been turned off. We both experienced that feeling of knowing we were home. We wrote an offer on the house the next morning and got married there six months later.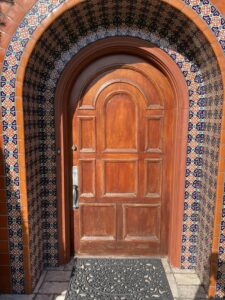 This overstuffed chair in the library by the French doors into the back garden is where I picture Maggie doing a lot of thinking. She falls asleep in this chair on her first night in Rosemont, as snow swirls outside the doors. In the morning, she meets her beloved terrier mix Eve for the first time:
"She hoisted herself out of the chair and turned toward the French doors. On the other side, in the shelter of a tree, was a snow-covered dog, whimpering miserably. You poor thing, Maggie thought. She wrangled with the lock and opened the door. The dog raced into the house like it had been shot from a gun, skidded to a halt in the middle of the library and vigorously shook itself, sending snow around the room like shrapnel." Coming to Rosemont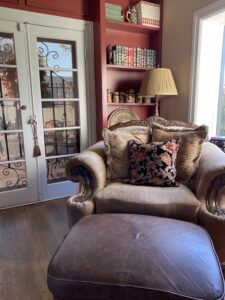 These fireplaces have been the setting for proposals, weddings, and momentous decisions:
"Maggie took John's hand and together they slowly descended the stairs. At the fireplace, she glanced at John and he nodded. Maggie tossed the letter over the hearth, and they watched as the flames touched—and then consumed—the paper that would have spelled a different future for them both." Weaving the Strands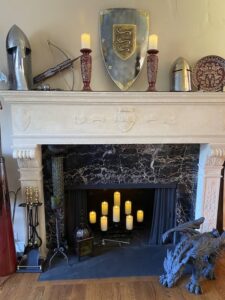 The dining room has hosted dozens of holiday meals, including Maggie's first Easter at Rosemont:
"…they set to work. They decided that the rabbits would show to best advantage on a large ivory damask cloth and settled on the Portmeirion dinnerware. Dessert would be served on square Wedgwood plates with a wide gilt border. They placed the last piece of silver on the table and were standing in the doorway admiring their handiwork when Alex came through the kitchen…" Coming to Rosemont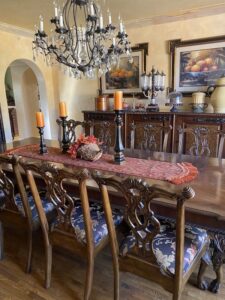 The stairway that sweeps along the side of the house to the second story has been traversed by dogs, cats, children, grandchildren, and brides:
"Maggie was still relaxing in the tub an hour later when Eve bounded up the stairs and into the bathroom in search of her master. Maggie quickly snatched her towel and stepped out of the tub, fearing that Eve would launch herself into it at any moment." Weaving the Strands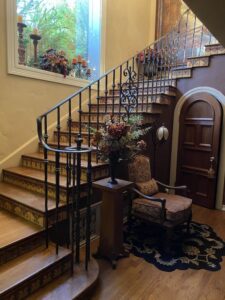 I've "super-sized" these settings from my own home when I've written them into my Rosemont series of books. I'm a novelist—I'm allowed to fluff things up and view them through rose-colored glasses.
Look around your own home. Wouldn't some of your nooks and crannies make excellent backdrops for a book or a movie? I challenge you to view your surrounding with a new eye. Who knows, maybe you'll pull out your laptop and start to write…
Here's a look at the latest book in the Rosemont series—
Restoring What Was Lost: The Seventh Novel in the Rosemont Series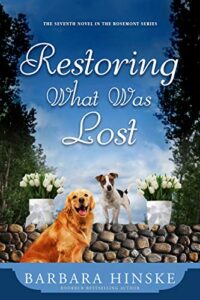 This seventh novel in the beloved Rosemont series finds Maggie Martin knee deep in intrigue.  The theft of rare books from Highpointe's collection, plus an attempted murder and a fatal accident in its library, are front-page news. Her board of trustees is looking for answers—and a scapegoat. Can she avoid being their target?
Sunday Sloan and Josh Newlon's love blossoms until the unexpected derails their happiness. Meanwhile, Cambridge University's rare book librarian travels to Westbury on business and ends up unraveling his own personal secrets.
A jeweled brooch discovered in Westbury Animal Hospital's lost and found causes a decades-old cold case to be reopened. Will it also allow David Wheeler to pursue his dreams?
Settle in as Maggie and the kind people of Westbury tackle every challenge.
ABOUT THE AUTHOR
Barbara Hinske is an attorney by day; novelist by night. She inherited the writing gene from her father, who wrote mysteries when he retired and told her a story every night of her childhood. She and her husband live in a stately home in Phoenix, Arizona, which they spend all of their spare cash and free time maintaining. When they're not working away on their house, they're spoiling their two dogs and four grown children. Decorating, entertaining, cooking, gardening, and Downton Abbey are Barb's obsessions.
Learn more about Barbara by visiting her website.