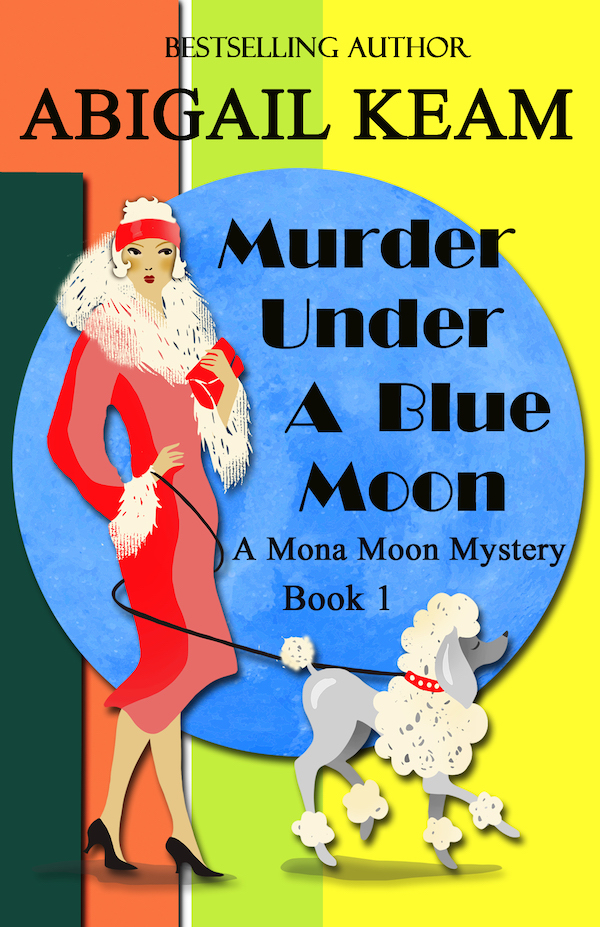 Murder Under a Blue Moon from author Abigail Keam
Mona Moon is not your typical young lady. She is a cartographer by trade, explorer by nature, and adventurer by heart. But there's a problem.
Miss Mona is broke. It's during the Depression, and National Geographic has just turned down her application to join an expedition to the Amazon.
What's she to do? Perhaps get a job as a department store salesgirl. Anything to tide her over until a next assignment.
There's a knock on the door. Who could this be in the middle of the night? Holding a revolver, Mona reluctantly opens her door to a man wearing a Homburg hat and holding a briefcase.
"I bring glad tidings. Your Uncle Manfred Moon has died and left you as his heir to the Moon fortune. You are now one of the richest women in the country!" he says.
Mona's response is to point her revolver in his face. If the stranger is telling the truth, she will apologize. If he is a fraud, she will shoot him.
That's how Mona does things in 1933.
You can purchase MURDER UNDER A BLUE MOON at:
Amazon: https://amzn.to/2UlfIed
Barnes & Noble: http://bit.ly/2Kl2mdp
Apple Books: https://apple.co/2U4lA6z
Google Play: https://bit.ly/3qDEh2w
ABOUT THE AUTHOR
Abigail Keam is an award-winning author who writes the Josiah Reynolds Mystery Series about a female beekeeper turned amateur sleuth. Josiah solves mysteries with her quirky friends in the Kentucky Bluegrass where fast horses, bourbon, and secrets abound.
Miss Abigail also writes the Last Chance For Love Romance Series. This is an inspirational series where people with problems visit the Last Chance Motel in Key Largo in desperate attempts to change their lives. There are many happy-ever-afters in these sweet and magical tales of love and redemption.
Miss Abigail is also an award-winning beekeeper who has won 16 awards at the Kentucky State Fair including the Barbara Horn Award which is given to beekeepers who rate a perfect 100 in a honey competition. Like her protagonist, Josiah Reynolds, she was a professional beekeeper and sold honey at a local farmers' market for years.
She currently lives on the Kentucky River Palisades in a metal house with her husband and various critters. She still has honeybees.
Learn more about Abigail and her books at:
Official Site www.abigailkeam.com
Facebook https://www.facebook.com/AbigailKeam
Instagram https://www.instagram.com/abigailkeam/
Twitter https://twitter.com/abigailkeam
Pinterest https://www.pinterest.com/abigailkeam/
email abigailshoney@windstream.net
Other books in the series:
Murder Under A Blue Moon
Murder Under A Blood Moon
Murder Under A Bad Moon
Murder Under A Silver Moon
Murder Under A Wolf Moon
Murder Under A Black Moon
AWARDS
2010 Gold Medal Award from Readers' Favorite for Death By A HoneyBee
2011 Gold Medal Award from Readers' Favorite for Death By Drowning
2011 USA BOOK NEWS-Best Books List of 2011 as a Finalist for Death By Drowning
2011 USA BOOK NEWS-Best Books List of 2011 as a Finalist for Death By A HoneyBee
2017 Finalist from Readers' Favorite for Death By Design
2019 Honorable Mention from Readers' Favorite for Death By Stalking
2019 Top 10 Mystery Novels from Kings River Life Magazine for Murder Under A Blue Moon
2020 Imadjinn Award for Best Mystery for Death By Stalking