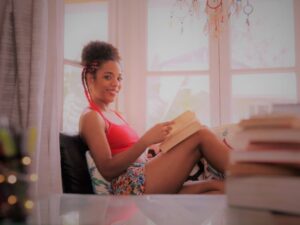 You can do it! You can create a video book blog and talk about all of your favorite books! It's called vlogging or if you do it on Instagram it's called bookstagram.
First of all you don't have to have a website to do this. You can use social media and just create your video blog. If you want to make money that's a different issue. You need a website or to use a site such as YouTube to monetize your contest. Yes, that's right, you can get money for this! No, don't quit your day job.
First of all you want to determine what it is you want to talk about. Is it book reviews? Interviewing your favorite authors? Talking about tropes you love? Movies made from books? All of the above?
Next you need to be able to record the video blog. You can use your cell phone to start with. Love investment, see if you even like to do it. Then you may want to invest in better equipment and more time.
Make sure you tell people about the blog so they can subscribe and watch and learn about the amazing books you talk about.
There are several online tutorials for starting a book blog and we'll link to those below for you.
If you do start one and would like us to check it out just hit us up on social media- RE/COS Facebook. 
Here are some tutorials to check out-
How Do You Become A Book Blogger
How To Start A Blog: Step By Step For Beginners (General but good advice)
How to Start a Book Blog Tips & Advice
Why You Should Start A Book Blog *From a hobby blogger*