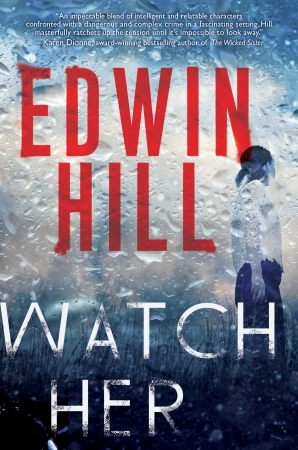 Watch Her — A Hester Thursby Mystery #3 by Edwin Hill
In the third intelligently dark suspense novel by two-time Agatha Award-nominated author Edwin Hill, Harvard librarian Hester Thursby becomes enmeshed with a powerful Boston family desperate to keep their deepest secrets from coming to light…
"Hits that elusive sweet spot yet again with an impeccable blend of intelligent and relatable characters confronted with a dangerous and complex crime in a fascinating setting. Hill masterfully ratchets up the tension until it's impossible to look away. Hester Thursby fans will not be disappointed!"
–Karen Dionne, award-winning bestselling author of The Wicked Sister
While attending a gala at Prescott University's lavish new campus, Hester Thursby and fellow guest, Detective Angela White, are called to the home of the college's owners, Tucker and Jennifer Matson. Jennifer claims that someone broke into Pinebank, their secluded mansion on the banks of Jamaica Pond. The more Hester and Angela investigate, the less they believe Jennifer's story, leaving Hester to wonder why she would lie.
When Hester is asked by the college's general manager to locate some missing alumni, she employs her research skills on the family and their for-profit university. Between financial transgressions, a long-ago tragedy, and rumors of infidelity, it's clear that the Matsons aren't immune to scandal or mishap. But when one of the missing students turns up dead, the mystery takes on new urgency.
Hester is edging closer to the truth, but as a decades-old secret collides with new lies, a killer grows more determined to keep the past buried with the dead. . . .
Purchase WATCH HER at:
These Retailers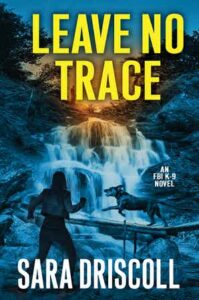 Leave No Trace — An F.B.I. K-9 Novel #5 by Sara Driscoll
In the fifth F.B.I. K-9 novel, Sara Driscoll weaves together fast-paced suspense and the fascinating world of law enforcement canines, as Meg Jennings and her search-and-rescue dog, Hawk, are heading south, where it's hunting season. But this time the prey is human.
One arrow through the heart could be a tragic hunting accident. A second one, within days, looks more like a crime. That's when Meg Jennings and Brian Foster of the FBI's Forensic Canine Unit head to Georgia to investigate. With their dogs Hawk and Lacey, Meg and Brian are enlisted to follow the scent of a killer. At first, nothing seems to connect the two victims-a county commissioner and State Patrol officer.  But the blood sport around the southern town of Blue Ridge is just beginning.
As the body count rises, the compound bow killer becomes even more elusive, appearing and vanishing like a ghost. However, with each new slaying Meg is beginning to suspect the grim design that's escalating in the shadows. At its heart, a tragic event that reaches back nearly two centuries in Georgia's history is now turning Blue Ridge into a hunting ground. But as Meg gets closer to solving the puzzle, the closer she is to stepping into the crosshairs of an elusive murderer with deadly aim, and motives as deep and dark as the woods . . .
Purchase LEAVE NO TRACE at:
These Retailers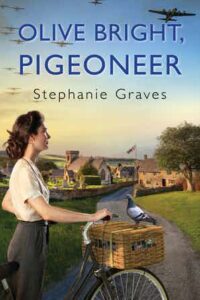 Olive Bright, Pigeoneer by Stephanie Graves
Set in a charming British village during World War II, Stephanie Graves' new charming historical mystery introduces Olive Bright, a spirited young pigeon fancier who finds herself at the heart of a baffling murder…
Though war rages across mainland Europe and London is strafed by German aircraft, the little village of Pipley in Hertfordshire bustles along much as it always has. Adrift since her best friend, George, joined the Royal Air Force, twenty-two-year-old Olive Bright fills her days by helping at her father's veterinary practice and tending to her beloved racing pigeons. Desperate to do her bit, Olive hopes that the National Pigeon Service will enlist Bright Lofts' expertise, and use their highly trained birds to deliver critical, coded messages for His Majesty's Forces.
The strangers who arrive in Pipley are not from the NPS. Instead, Jameson Aldridge and his associate are tied to a covert British intelligence organization known as Baker Street. If Olive wants her pigeons to help the war effort, she must do so in complete secrecy. Tired of living vicariously through the characters of her beloved Agatha Christie novels, Olive readily agrees. But in the midst of her subterfuge, the village of Pipley is dealing with another mystery. Local busybody Miss Husselbee is found dead outside Olive's pigeon loft. Is the murder tied to Olive's new assignment? Or did Miss Husselbee finally succeed in ferreting out a secret shameful enough to kill for? With the gruff, handsome Jameson as an unlikely ally, Olive intends to find out–but homing in on a murderer can be a deadly business…
Purchase OLIVE BRIGHT, PIGEONEER at:
Various Retailers