This month's bookstore spotlights are all in the New York City area. You can shop online and many of them have very special offerings. We hope you'll find the magic here and show your support!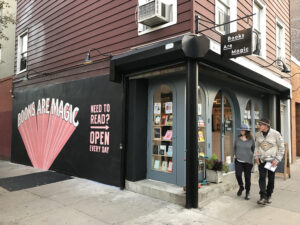 Today we are looking at a favorite- BOOKS ARE MAGIC
Are they physically open to browse? YES
Hours: 
Monday – Friday 10am-8pm
Weekends 10am-6pm
225 Smith Street
Brooklyn, NY 11231
on the corner of Smith and Butler 
Can you order online? YES
They have Books are Magic merchandise that's so fun! This is a great way to show what a super-bibliophile you are and help support an indie bookstore!
Merchandise– https://www.booksaremagic.net/?q=p.merch
Another fun feature at Books are Magic is their monthly book subscription service with all different genres to choose from!
Monthly Magic Book Subscriptions! https://booksaremagic.net/?q=p.subscriptions choose your genre and let the good books come to you!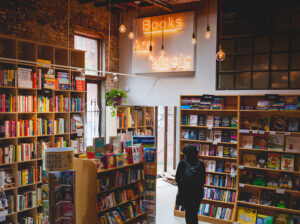 We learned about the store on their website and encourage you to check them out!
About the store (from the website)- Books Are Magic was born in May 2017 and is home to exciting new releases and beloved classics, hidey-holes for children and books to read in them, gumballs filled with poetry, readings and panels almost every night of the week and storytimes on the weekends, and yes, plenty of magic.
Emma Straub and Michael Fusco-Straub live and work in Cobble Hill, Brooklyn, and Books Are Magic is their third child. Their two sons are very excited about the new addition to the family. You can read more about Emma's books here, and see more of Michael's design work here.