A sneak peek of The Spinster Kang by Zoe S. Roy!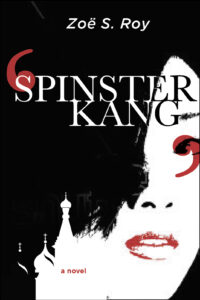 Blurb:
Thirty-two-year-old Kang is a new immigrant in Toronto. Having an older sister who was raped and suffers from the ensuing stigma in China, Kang is determined to remain a spinster, which has its own stigma in China, and she struggles with her fear and distrust of men. But Kang's story is not a hard luck story. She is an intelligent woman and a successful immigrant. Kang deals with the perplexities of a different culture by maintaining a sense of curiosity, an enjoyment of learning about the new culture, and by finding humour rather than the humiliation that so often characterizes descriptions of immigrant experience. Kang rooms with Tania, a Russian immigrant, and learns that many years earlier, Tanya was in love with a Chinese medical student at Moscow University who was abruptly returned to China for having had a relationship with her. Kang's own father once studied at that university but has never talked about it since he was forced to leave Moscow and then was labelled as a rightist during the Chinese Anti-Rightist Campaign. Since then her father has been dispatched to work and live in Kunming, a city far away from Beijing. Could the paths of her father and Tania have ever crossed? Curious about her father's past, Kang decides to pay a visit to Moscow, accompanied by Brian, Tania's nephew, a charming engineer who wants to explore his Russian Jewish roots. Spending time with Brian helps Kang to see how much her sister's tragedy has shadowed her life. When Brian suddenly shows symptoms of schizophrenia, Kang must decide whether to throw her spinster's hat away or end her relationship with Brian.
Sneak Peek:
Spinster Kang
(Two Vignettes)
This vignette is about Kang and her lesbian roommate Nancy:
On a Sunday in early April, Nancy invited Kang out for dinner at a restaurant. As soon as they walked in, a well-dressed waiter led them through a dimly-lit entrance and then downstairs into a pitch-black room.
Kang held Nancy's hand in the dark. She thought about the restaurant's peculiar name: O. Noir. It reminded her of the Chinese saying, "You can't see your own fingers even if you place your hand under your very nose." Nancy had explained that, without sight, the other senses were intensified, and that food would taste better.
Carefully, Kang groped for her chair and sat down. The combination of darkness with background music made her feel as though she were sitting in a cinema waiting for a movie to start. Someone came and then a woman's voice explained what was in the dishes that were being placed in front of them. "Here are escargots in cherry tomatoes with garlic butter, marinated shrimps with herbs, and a basket of rolls." Then the steps retreated. Her hand fumbling with the fork, Kang inhaled the steamy and delicious aroma from the dishes in front of her.
"What's an escargot?" she asked.
"It's a French word, meaning snail in English," Nancy answered.
"Interesting," Kang said, as her hands found an oval plate that felt warm to the touch and seemed to be heavy-gauge porcelain. Her fork made a little tinkling sound when she touched the plate. She poked at something rubbery, but had trouble picking it up.
"You can use your fingers," Nancy whispered in a voice just next to Kang's ear. She seemed to sense what Kang was doing.
"Right. Nobody can see me." Kang pinched one creamy, slippery snail with her fingers and dropped it in her mouth.
"Yum!" Nancy exclaimed, biting into a tasty shrimp. "I remember the first time I went out with my ex. It was a blind date, and we went to a restaurant. I got so nervous and couldn't stop babbling. The dim candlelight helped me relax…. Now, how are you feeling eating in the dark?"
"This reminds me of one evening when I was a school girl doing my homework when the electricity suddenly went off." Kang told Nancy how her brother and his friend used a skeleton to scare her and her sister as well as the other kids in the neighborhood.
When Kang finished her plate and felt around for the buns. Nancy pushed the basket near her hand. "Here's the bread."
Surprised, Kang asked, "How did you know what I was looking for?"
"I could sense it," Nancy said. "The escargots aren't enough to fill your stomach."
"Right," Kang agreed, fingering the small indentations on the plate. "There were only eight snails." She found the butter and spread it on her roll.
"Are you enjoying eating here with me?" Nancy asked as she bit into a bun.
"Very much. This is my first experience eating snails," Kang spoke slowly. "And without light, but with a nice—" But before she finish her sentence, she felt two hands gently holding her
face, and then lips pressed softly against hers. The delicate fragrance told her it was Nancy. Kang was so shocked that she slipped off her seat and onto the floor.
God! She sat on the carpet under the table, completely disoriented by the kiss.
The following vignette is about how schizophrenia is suspected in Brian:
One day, Tania invited Kang and Brian to have a lunch with her. Over the lunch of a pasta salad and grilled cheese sandwich, Kang asked Brian, "You didn't get enough sleep, did you?"
"What gave it away?" Brian asked, his eyes flitting from Kang to his aunt.
"Your bloodshot eyes," Kang said.
"Don't worry. I'm okay." He hesitated. "I have a question for my aunt."
"Go ahead," Tania said, and locked her eyes on his.
"Did you ever think about going to China to locate Viktor?"
"What a question!" She sucked in air. "Yes, sometimes I did, but the circumstances were never right."
"How about now? China is open, and you have the time," said Brian before biting into a sandwich.
"Well, I'm too old. Why do you ask such questions?" Tania smiled wearily.
"I guess the trip to Moscow sparked my imagination." He chuckled. "If I could find a time machine…What did I say?" Brian asked, staring into space. "Sometimes my mind feels very hazy."
"Your mind?" Tania paused. "Can you pick me some flowers from the garden after the meal?"
"Of course! Which ones would you like?" he asked, taking a sip of Pepsi.
"Pick some black-eyed Susans and the purple coneflowers."
Brian finished his Pepsi, got a pair of scissors, and dutifully went out the side door. Tania watched him from the kitchen window. Kang stood beside her.
They watched Brian make his way along the path between the flower beds. Several startled sparrows rose from the shrubs as he passed, one of them almost hitting his head. He jumped and his arm swept in the air as though he were trying to catch it. He stepped past the black-eyed Susans and then coneflowers. Finally, when he reached the end of path, they saw him jump again, one hand clenching into a fist, the other holding the scissors.
"My gosh! What's wrong with him?" Kang cried out.
"He needs to see a doctor," she said. "Something is wrong."
After they finished cleaning the kitchen, Brian had slipped into the room quietly. "Aren't they beautiful?" he said, holding a vase filled with flowers of different colours. "What do you call this white one?" he asked.
Eye wide open, Tania looked the flowers. "That's a dahlia! In fact, they're all dahlias!" She tried to speak without panicking. "My dear, didn't you find the black-eyed Susans or the purple coneflowers?"
"You said yellow and purple. Plus I got some white ones." Brian sounded innocent. "Don't you like them?"
"They're very nice. Thank you." Tania asked, "Where are my scissors?"
"I washed them and put them back in the drawer."
"Have you had a checkup lately?" Tania asked.
"No. Do you think I should see the doctor because I'm flower illiterate?" Brian laughed.
(The vignettes are in a video, readers can listen to them on  YouTube.)
Spinster Kang
Synopsis
Thirty–two-year-old Kang, nicknamed "Spinster" in China, is a new immigrant in Toronto. The misery of her sister, Jian, as a victim of rape, abandoned by her first boyfriend and then mistreated by her husband, has a strong impact on Kang's life. She distrusts men.
Before coming to Canada, Kang has earned a B. Ed and worked as a teacher. However, she has to acquire an Ontario teaching certificate to locate a teaching job in Toronto. In order to put money aside for tuition fees, she works two jobs including a full-time counter helper in a Tim Hortons. Kang has moved a few times before she finally rooms with Tania, a retired professor. Besides doing domestic work, Kang proofreads Tania's autobiography while she studies to earn her teaching certificate.
During the blackout in the summer of 2003, Kang has a chance encounter with Brian, Tania's nephew, a charming engineer. Assuming he is gay, Kang meets with him without aversion and becomes curious about him. Kang is eager to improve her oral English, and Brian wants to know about Chinese culture.
From Tania's autobiography, Kang learns about Tania who, born to a Russian Jewish family, immigrated to Canada with her family more than four decades ago. Her love experience with a Chinese medical student in Lomonosov Moscow State University.
during her youth especially intrigues Kang, who starts to inquire about her own father. He once studied at that university but has never talked about it since he was forced to leave Moscow and then was labelled as a rightist during the Chinese Anti-Rightist Campaign. Since then her father has been dispatched to work and live in Kunming, a city faraway from Beijing. Could the paths of her father and Tania have ever crossed?
Using the theories from the course of Psychological Development, Kang begins her own self-analysis. Chatting with Brian also gives her a chance to view how much her sister's tragedy has shadowed her life. Talking about her sister's marriage makes her see through the mental twists in her own past. Besides, Brian's imagination and loss-of-reality amaze her.
Kang falls in love with Brian, whose stories reveal that he is straight. Inspired by Tania's memoir and suspecting her father's past, Kang decides to pay a visit to Moscow in May after she finishes all her courses. Meanwhile Brian is curious about that city where his mother spent her teen years before moving to Canada. In addition, he desires to search for his Jewish Russian roots.
Kang and Brian travel to Moscow together, which has brought the two closer. Afterwards they plan to have an engagement party and Kang's parents are scheduled to visit Toronto for Kang's graduation ceremony and betrothal. However, Brian has shown symptoms of schizophrenia. Should Kang throw her spinster's hat away or cancel the engagement to Brian? Should she reveal to Tania that her father was her first love so long ago? She seeks solutions and is happily surprised.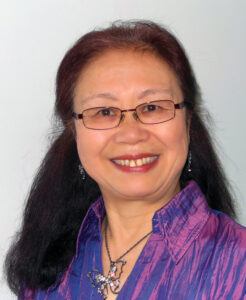 Author Bio:
Born in China, Zoë S. Roy, an avid reader even during the Cultural Revolution, writes literary fiction with a focus on women's cross-cultural experiences. Her publications include Butterfly Tears (2009), a collection of short fiction, and three novels, The Long March Home (2011) and Calls Across the Pacific (2015), and Spinster Kang (2019), published by Inanna Publications. She holds an M.A. in Atlantic Canada Studies from Saint Mary's University and a M.Ed. in Adult Education from the University of New Brunswick. She is a former teacher and a member of The Writers' Union of Canada.
Website and URLs for any social media
Reviews of Spinster Kang:
Reader Views
Interview with Zoë S. Roy, author of Spinster Kang
'Spinster Kang': Interview with Author Zoe Roy
A link to where to buy the book