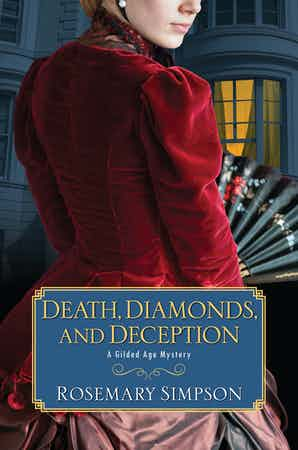 Set amidst the opulent mansions and cobblestone streets of Old New York, this fifth installment in Rosemary Simpson's acclaimed series brings the Gilded Age to life, as heiress Prudence MacKenzie and ex-Pinkerton Geoffrey Hunter dash down a twisted maze from Fifth Avenue to Five Points in pursuit of stolen diamonds once belonging to Marie Antionette …
Fall 1889: Lady Rotherton has arrived from London intent on chaperoning her niece Prudence through a New York social season to find a suitable husband. It's certainly not her niece's devilishly handsome partner in Hunter and MacKenzie Investigative Law. Aunt Gillian's eye for eligible suitors is surpassed only by her ability to discern genuine gems from nearly flawless fakes. At the Assembly Ball at Delmonico's, she effortlessly determines that the stones in the spectacular diamond waterfall necklace adorning the neck of the wife of banker William De Vries are fake.
Insisting on absolute discretion to avoid scandal, the banker employs Prudence and Geoffrey to recover the stolen diamonds pried out of their settings–priceless stones acquired by Tiffany, originally purchased for Marie Antoinette. Their search for a possible fence rapidly leads to a dead end: a jeweler brutally killed in his shop during an apparent theft.
The jeweler's murder is only the first in a string of mysterious deaths, as Prudence and Geoffrey pursue their elusive quarry. But the clues keep leading back to duplicity on the part of the De Vries family, who, it turns out, have a great deal to hide…
Purchase DEATH, DIAMONDS AND DECEPTION AT:
These Retailers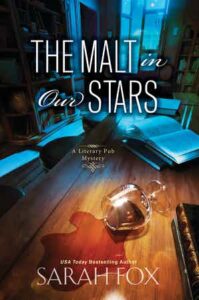 The Malt in Our Stars – A Literary Pub Mystery #3
by Sarah Fox
There's some shady business in Shady Creek, Vermont, this spring—in the third mystery by USA Today bestselling author Sarah Fox featuring pub owner and amateur sleuth Sadie Coleman . . .
Sadie is delighted to have booked famous romantic suspense novelist Linnea Bliss for an event at The Inkwell, her literary-themed pub, housed in a renovated grist mill. The author and her personal assistant Marcie are staying at Shady Creek Manor, a grand historical hotel that was once a private mansion and is rumored to still hold hidden treasure somewhere within its walls.
But the hotel's storied past is nothing compared to its tragic present when Marcie plummets to her death from an open window on the third floor. After Sadie discovers signs of a struggle in the room, it's clear that someone assisted the assistant out the window. But Marcie is new in town—who would have a motive to kill her?
In between pulling pints and naming literary-themed cocktails, Sadie takes it on herself to solve the case, wondering if the crime is connected to the vandalized vehicles of a film crew in town to do a feature on local brewer Grayson Blake, with whom Sadie shares a strong flirtation. Or could the poor woman's defenestration have anything to do with the legendary treasure? As Shady Creek Manor prepares for a May Day masquerade ball, Sadie is determined to unmask the killer—but when she uncorks a whole lot of trouble, will she meet a bitter end?
Purchase THE MALT IN OUR STARS at:
These Retailers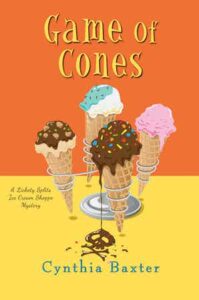 Game of Cones – A Lickety Splits Mystery #4
by Cynthia Baxter
In Cynthia Baxter's fourth Lickety Splits Mystery, ice cream shoppe owner and amateur sleuth Kate McKAy doesn't waffle around scooping up new clientele at a historic hotel, but her hopes of becoming the Hudson Valley's reigning ice cream queen melt fast when murder checks-in!
From the moment Kate arrives at the imposing Mohawk Mountain Resort, not even luggage brimming with hot fudge can sweeten her stay. Instead of savoring alone time with her on-again boyfriend Jake and leading workshops on whipping together delectable frosty treats, she finds herself stranded at the isolated hotel with a small group of nutty characters–and a dead body.
When the corpse of wealthy cosmetics executive Bethany La Montaigne is suddenly found following a blackout, any of the five strangers trapped with Kate and Jake could be the killer. Chilled to the core, Kate vows to discover whether the victim's mortal enemy was a smooth-talking playboy, bubbly millennial, mousy librarian, charming Englishman, or the Mohawk's creepy general manager…
Bethany's life was chock full of scandals and there's little doubt that someone refused to endure another taste. With just a sprinkling of clues, it's up to Kate to bring justice to a culprit who believes that revenge is a dish best served cold…
PURCHASE GAME OF CONES AT: