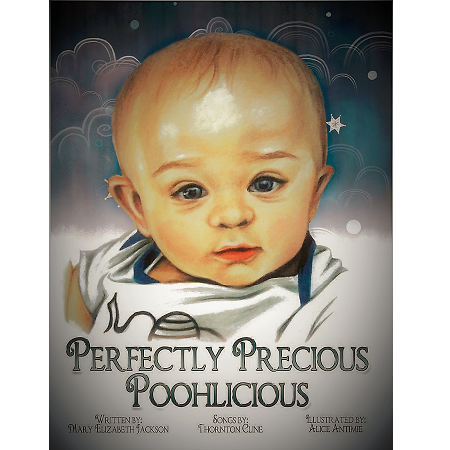 A stunning new debut children's book series that will bring families together by author Mary Elizabeth Jackson and Grammy Award Nominee, Thornton Cline
Precious Poohlicious is made perfect in the eyes of his Mommy. Everything about him from his chubby cheeks, to his bright eyes, to his twinkle toes and smiles make him who he is — Perfectly Precious Poohlicious. The adorable, lifelike illustrations will dazzle you and warm your heart. The book includes ten cute and catchy, easy-to-sing songs that will make you feel the love of his Mommy and bring joy to anyone who sings them. The story is written through the eyes of Poohlicious who knows he is perfect just the way he is.
There is also an CD that complements the book by Grammy Award Nominee and Amazon best-selling children's author, Thornton Cline!
More Books in The Series: Poohlicious Look At Me
Journeys through the eyes of Toddlerhood….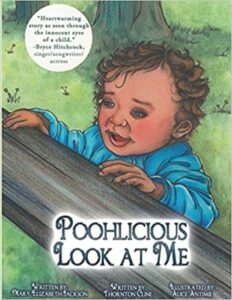 In the second book of the award-winning series, Poohlicious journeys through the wonders and adventures of Toddlerhood. See through Poohlicious' curious eyes and experience a world full of "can dos" and "not sure of's." Always on the move, Poohlicious discovers all that a toddler is capable of doing, and that Mommy believes he is perfectly made no matter what may come. Recommended for ages zero through four. Poohlicious is every child.
ABOUT THE AUTHORS:
Mary Elizabeth Jackson is the award-winning author of the children's book series Poohlicious, (Tuscany Bay Books) with the third book coming out 2021, Poohlicious Oh the Wonder of Me, (Tuscany Bay Books). Cheers from Heaven, a mid-grade reader releases early 2021, (Tuscany Bay Books), with co-writer Thornton Cline. Jackson focuses on writing empowering books for kids and is working on an eight-book series with Cline for children as well as books for the special need's community and a motivational book for adults. Jackson is also a ghostwriter and book collaborator.
Mrs. Jackson is a special needs advocate and an Ambassador Advocate for AutismTn. She co-founded and co-hosts Writers Corner Live TV and Special Needs TV Shows that air on Facebook, Twitter, LinkedIn, Periscope, and YouTube. Writers Corner Live features author interviews and all things in the writing world. Special Needs TV features interviews and resources for parents, families, and caregivers. Jackson is also working on an edutainment YouTube channel with her son featuring children's book reviews and family fun and education.
Mrs. Jackson is a very busy mom and wife. She loves nature, being creative, anything funny, and inspiring others to believe in themselves. She lives with her hubby, three kids, and dog in the Nashville area. -Cherish every moment of life.
The team of Mary Elizabeth Jackson (Author), Thornton Cline (Author and Composer) and Alice Antimie (Illustrator) are responsible for an award-winning series of children's books that includes "Perfectly Precious Poohlicious" and "Poohlicious Look at Me".