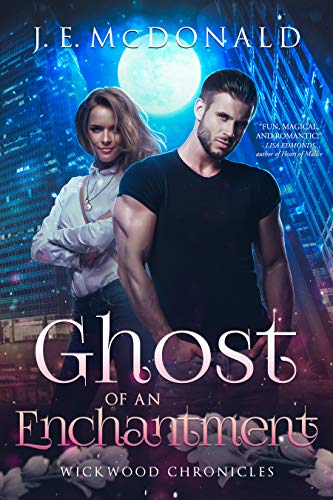 GHOST OF AN ENCHANTMENT – Wickwood Chronicles Book 2 – By J.E. McDonald
THE PARANORMAL ROMANTIC COMEDY CONTINUES
Something extraordinary hides beneath Wickwood's picturesque façade… and this time it's not staying buried.
Stella Campfield might be having a string of bad luck, but she has her witch's intuition telling her it will turn around. That is until her best friend accidentally opens a portal to another dimension!
When the police arrive, she's dismayed to learn the officer she's been obsessing over is on the case. As an energy reader, she's drawn to him like no other, but she can't explain why.
And that changes everything.
When Lucas Martinez ends up on the alluring lady's doorstep because of a noise disturbance call, he is unexpectedly pulled into the world of the paranormal.
Burn marks on the floor and floating books? Nothing is as it seems.
As his attraction for the secretive witch grows, and as he digs into the mysteries surrounding her, he's even more convinced Stella is at the center of it all.
Can the unlikely pair learn to trust each other or will the sinister forces surrounding them tear their burning romance—and the world—apart?
OTHER BOOKS IN THE SERIES:
GHOST GAMBLE – What paranormal mystery lies hidden beneath Wickwood's picturesque façade?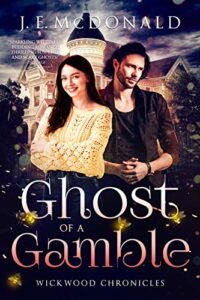 Bree Tisdale is a jack-of-all trades blogger whose work history is nothing but tragic. When she lands a job with a supposed ghost hunter—the mysterious Zack Liller—he threatens to bring the occult and supernatural into her neat little world.
With an eviction notice in her back pocket, she doesn't have much of a choice. Yet, as the mysteries pile up, the impossible suddenly starts to seem possible…
…Even trusting in Zack and the desire he sparks inside her.
Zack Liller grew up with ghosts and has little time for romance. Reservations that Bree will be a good fit for his sister's company plague him, but one day spent with the vivacious beauty ends up convincing him that their paranormal investigations can't do without her.
Or at least, that he can't.
But, as the magic heats up between them, he is forced to wonder if he can trust Bree enough to be honest about his unique abilities.
When the house they're investigating turns out to be one of the most active haunts he has ever experienced—and the most dangerous—he realizes he may not have a choice.
ABOUT THE AUTHOR:
J.E. McDonald was born and raised in Saskatchewan, Canada, The Land of the Living Skies. As a child, she was either searching the clouds for identifiable shapes, or star-gazing way past her bedtime. She cut her teeth watching Star Trek, James Bond movies, and reading the Harlequin novels her mother left in the bathroom—which resulted in an extremely skewed sense of sex education by age eleven. All of these factors contribute to her love of writing rom coms with a paranormal twist, romantic suspense, and far-future romance.
​J.E. resides in Saskatchewan with her husband and three daughters, a stay at home mom by day, and an obsessed writer by night.
More information about J.E. McDonald can be found at: Wickwood Chonicles | J.E. McDonald Author
To request additional review copies or an interview with J.E. McDonald, please contact Mickey Mikkelson at Creative Edge Publicity: mickey.creativeedge@gmail.com / 403.464.6925.