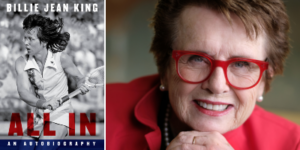 Alfred A. Knopf will publish ALL IN: AN AUTOBIOGRAPHY by Billie Jean King on August 17. The book marks the first time King has told her story in full, detailing how her private journey to be what she calls her "authentic self" played out alongside her groundbreaking activism and career in tennis—that included seven years as the top-ranked woman in the world, a record twenty Wimbledon championships, thirty-nine Grand Slam titles, and her watershed victory over Bobby Riggs in the famous "Battle of the Sexes." King will also write about her unwavering ongoing commitment to equality and social justice. As King notes, many of the issues she and others fought for decades ago are being revisited today.
The announcement was made by Reagan Arthur, Executive Vice President and Publisher of Knopf. The book was edited by Jonathan Segal, Vice President and Executive Editor.
"Early on, what was most apparent to me was that the world I wanted didn't exist yet," King writes. "It would be up to my generation to create it."
Beginning with her working-class childhood in Long Beach, California, and moving across the country and around the globe, King describes her love of the sport, her commitment to excellence, and her determination to be the No. 1 player in the world. She details her fight for equality in tennis, leading to the establishment of the first all-women's pro tour in 1971, persuading the US Open to become in 1973 the first major tournament to award equal prize money to men and women. King also founded the Women's Tennis Association, the Women's Sports Foundation, and cofounded World TeamTennis.
King faced endless challenges along the way—entrenched sexism, an eating disorder, near financial ruin after being outed—and she shares how she became comfortable in her own skin at the age of fifty-one. She reflects on her role as a champion for equality and the godmother of women's sports. And she covers her participation in the rising women's movement, Title IX, the assassinations and antiwar protests of the 1960s, the civil rights movement, and, also, the LGBTQ+ rights movement and the impact these had on her life and her advocacy work. This is a timely book. King's life today remains one of service, and in ALL IN she draws on her frontline experiences to offer contemporized insights on leadership, business, activism, sports, politics, marriage equality, parenting, sexuality, and love.
"This is a remarkable book by a remarkable woman," says Segal. "Her fight, her spirit, and her actions have made people's lives richer and better. She paved the way for a generation of leaders, and there are lessons in her life for everyone."
Billie Jean King is the first female athlete to receive the Presidential Medal of Freedom, and she was named one of Life magazine's "100 Most Important Americans of the 20th Century." She is the founder of the Billie Jean King Leadership Initiative, the Women's Tennis Association, and the Women's Sports Foundation, and she cofounded World TeamTennis. She lives in New York.