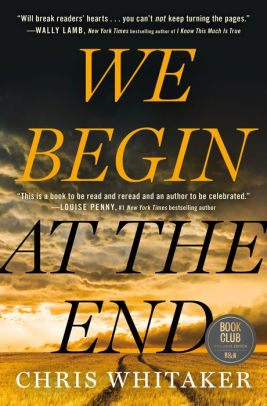 Barnes & Noble Selects Chris Whitaker's We Begin at the End as March 2021 National Book Club Selection
Barnes & Noble Selects Chris Whitaker's We Begin at the End as March 2021 National Book Club Selection
Readers Invited to a Free Virtual Book Club Event Featuring Chris Whitaker in Conversation with A.J. Finn on Tuesday, April 6
Barnes & Noble, Inc., with bookstores in every state across the United States, today announced We Begin at the End by Chris Whitaker as the March 2021 selection for the Barnes & Noble Book Club, a monthly book club designed for readers across the country to discuss the most compelling books. Barnes & Noble is selling a special, exclusive Book Club edition of We Begin at the End as well as hosting a free LIVE virtual event on B&N's Facebook Page with Chris Whitaker in conversation with A.J. Finn, author of The Woman in the Window, about the book on Tuesday, April 6, at 3pm East Coast Time. Customers can purchase the exclusive edition in-stores or online at BN.com.
"We Begin at the End is a fantastic, character-driven story about families, both those you are born into and those you create," said Jackie De Leo, Vice President, Bookstore, Barnes & Noble. "This riveting and beautifully-written novel will take readers through a whole range of emotions. I love it when I have a book that I can put into everyone's hand, and We Begin at the End is exactly that type of book."
Barnes & Noble invites customers to join the B&N Book Club Facebook Group to share their views of the book as well as attend the virtual Book Club event one month after publication to hear from Chris Whitaker.
"It was 1:00 a.m. when I discovered Barnes & Noble had chosen, We Begin at the End as the March Book Club pick. I was too excited to sleep that night and haven't stopped smiling since," said Chris Whitaker. "I started writing this book almost twenty years ago and didn't ever imagine it being published. So, to say that having the support of the mighty B&N is a dream come true would be a lie—I didn't ever dream this big. Thank you to everyone at Barnes & Noble, I will be forever grateful to you."
The virtual event with Chris Whitaker and A.J. Finn on April 6 will be hosted on Barnes & Noble's Facebook Page. Before the virtual event, customers can also join in discussion at their convenience on the new B&N Book Club Facebook group and on social media via the hashtag #BNBookClub.
Previous Barnes & Noble Book Club selections have included: The Female Persuasion by Meg Wolitzer, An Absolutely Remarkable Thing by Hank Green, The Last Romantics by Tara Conklin, The Island of Sea Women by Lisa See, Lost Roses by Martha Hall Kelly, Mrs. Everything by Jennifer Weiner, The Nickel Boys by Colson Whitehead, Inland by Téa Obreht, The Testaments by Margaret Atwood, Dear Edward by Ann Napolitano, and The Vanishing Half by Brit Bennett.