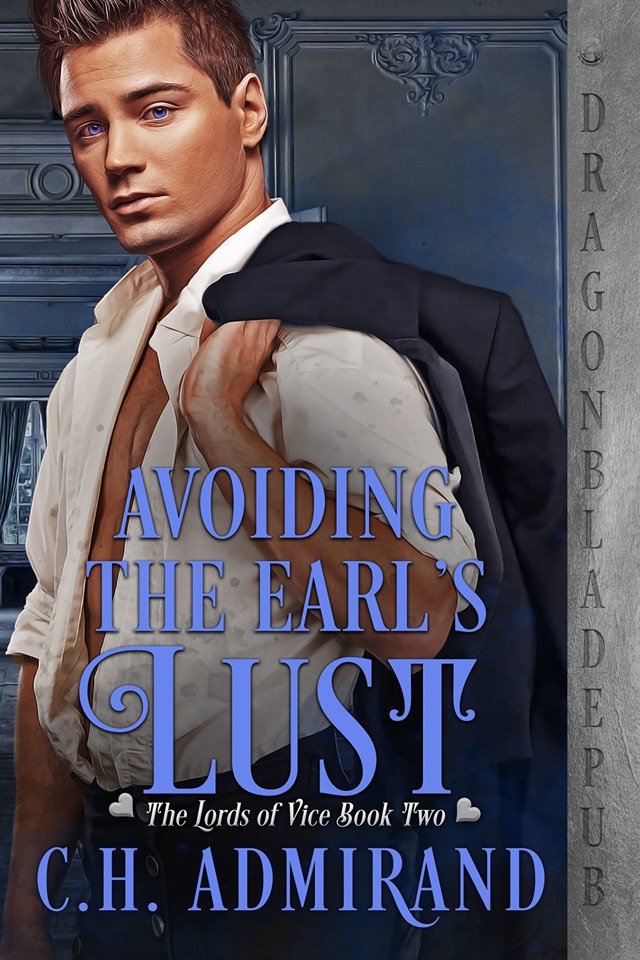 Avoiding the Earl's Lust, Book 2, The Lords of Vice Series
by C.H. Admirand
And a RAFFLECOPTER GIVEAWAY!!!!
Pride, Lust, Envy and Greed…vices that could lead a gentleman down the road to ruin. Unless he meets his saving grace in the form of an innocent debutante…
Edward, Earl Lippincott is cut from the same cloth as his late and unlamented brother, the Fifth Duke of Wyndmere. When a madman has the earl's family in his crosshairs, the earl's overindulgence, and self-destructive ways halt. He works alongside his brother, the Sixth Duke of Wyndmere, restoring the family name to secure a suitable marriage for their sister, but is distracted by their sister's lovely friend Lady Aurelia.
Lady Aurelia is enthralled by the handsome earl and secretly delighted when he dances with her at his sister's ball. Everyone warns her to stay away from the earl—even his own sister! The earl's social invitations tempt her to accept, but her uncle insists she decline.
Will she follow her heart or listen to her head in this sweet tale of love and redemption?
Link to Amazon http://bit.ly/AvoidingtheEarlsLust
Rafflecopter Giveaway!!!!!!
https://www.rafflecopter.com/rafl/display/fc3ff12b23/?
ABOUT THE AUTHOR:
C.H. was born in Aiken, South Carolina, but her parents moved back to northern New Jersey where she grew up.
She believes in fate, destiny, and love at first sight. C.H. fell in love at first sight when she was seventeen. She was married for 41 wonderful years until her husband lost his battle with cancer. Soul mates, their hearts will be joined forever.
They have three grown children—one son-in-law, two grandsons, two rescue dogs, and two rescue grand-cats.
Her characters rarely follow the synopsis she outlines for them…but C.H. has learned to listen to her characters! Her heroes always have a few of her husband's best qualities: his honesty, his integrity, his compassion for those in need, and his killer broad shoulders. C.H. writes about the things she loves most: Family, her Irish and English Ancestry, Baking and Gardening.
Take a trip back in time to Regency England for her new series: The Lords of Vice, coming in 2021 from Dragonblade Publishing! Venture back to the Old West with her bestselling Irish Western Series. Fast-forward to the present, stopping at the Circle G Ranch in Pleasure, Texas, before finally landing in Apple Grove, Ohio–Small Town USA–for a slice of Peggy McCormack's Buttermilk Pie!