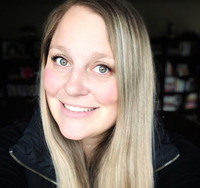 Great adventures and writing life with author Stella Bixby
LISTEN HERE!!
Stella Bixby is a native Coloradan who loves to snowboard, pluck at the guitar, and play board games with her family.
She was once a volunteer firefighter and a park ranger, but now spends most of her time making up stories and trying to figure out what to cook for dinner.
Her newest release, Bungled, will be out on March 30th but you can pre-order it here.
If you want to keep in touch with Stella, check out her website, Facebook, Twitter, and Instagram.
Here's a look at Stella's latest release: BUNGLED
(releasing March 30th-available for pre-order)
It's just a fishing tournament. A boring old—
Who are we kidding?
When is anything boring when Rylie's around?
It's a simple event—the person who catches the largest fish wins.
But rumors of cheating are on the air, and Rylie's assigned summie is ready to catch those dirty, rotten criminals. Whether they exist or not.
Between the tournament and planning her wedding, Rylie has her hands full.
When two fishing superstars—who just happen to be exes—enter the event, Rylie knows things are about to get out of control.
Will Rylie be able to stay out of trouble this time? Will she finally find the perfect wedding dress?