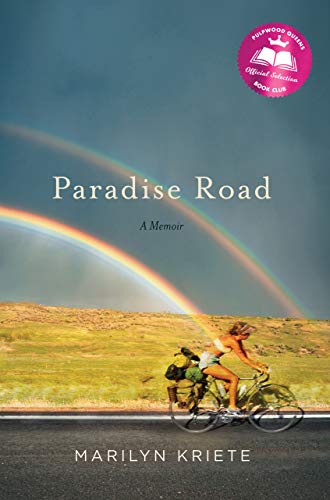 PARADISE ROAD BY MARILYN KRIETE
A restless child of the 1960s, Marilyn yearns for love, hippiedom, and escape from her mother's control. At 14, she runs nearly a thousand miles away to Vancouver, British Columbia, eventually landing herself in a Catholic home for troubled girls. At 16, she's emancipated, navigating adulthood without a high school diploma, and craving a soulmate. When she falls in love with Jack, the grad student living next door, life finally seems perfect. The two embark on a cross-continental bicycle trip, headed for South America, but before they reach Mexico, Jack dies. Utterly shattered, Marilyn does the hardest thing she can imagine: a solo bicycle trip, part tribute, part life test. She conquers her fears but goes wildly off course, chasing her heart as she falls into a series of tragicomic rebounds. Two itinerant years later, a chain of events in Montana's Bitterroot Mountains leads to a peace she never expected to find.
Reminiscent of Wild and Travelling with Ghosts, Marilyn's journey portrays a life unmoored by grief, brought to shore again.
PARADISE ROAD was selected as the International Pulpwood Queens and Timber Guys Book Club's International Book of the Month for March 2021.
Amazon.ca:  Paradise Road: A Memoir: Kriete, Marilyn: 9781950495115: Books – Amazon.ca
Amazon.com: Paradise Road: A Memoir: Kriete, Marilyn: 9781950495115: Amazon.com: Books
Barnes and Noble: Paradise Road: A Memoir by Marilyn Kriete, Paperback | Barnes & Noble® (barnesandnoble.com)
ABOUT THE AUTHOR:
After a colorful life spanning four continents and 16 cities, earning her keep as cook, chambermaid, waitress, fisherwoman, missionary, speaker/teacher, tutor, and academic writing editor, MARILYN KRIETE now lives in Kelowna, British Columbia, Canada, with her charitable husband Henry and three demanding cats. Her poetry and nonfiction have appeared in The Lyric, Storyteller, The Eastern Iowa Review, The English Bay Review, and Brevity Blog. PARADISE ROAD is her debut memoir.