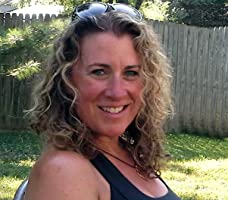 Permission to Laugh with author Honey Parker
Careful-ish is Honey Parker's first novel, but not her first written words.
She's co-authored several business books, written and sold several screenplays which, as per Hollywood tradition, are circling various levels of that place known as Development Hell.
Honey is a veteran advertising writer and creative director for big agencies in New York and Los Angeles, she eventually co-founded her own creative shop in Park City, Utah.
Somewhere in the middle of all that, Honey began doing standup comedy in clubs and on TV, and won the coveted title of Funniest Person In Advertising, which brought no sash nor cash.
Honey is married to her best friend and business partner, Blaine Parker and in their spare time, they run an ad agency, speak to small-business owners around the globe about profitable branding, and co-host the weekly podcast, CoupleCo: Working With Your Spouse For Fun & Profit. As the most amateur of athletes, they've raced together in full and half marathons and triathlons.
Honey's other "accomplishments" include being a performer at various Club Med locations around the world, sailing in the North American Fireball Championships despite the fact she cannot sail, and sparring with the World Female Boxing champ, a feat for which Honey is most proud that she neither bled nor cried.
You can find her at her website, FB, IG, and Amazon.
Here's a peek at her latest release:  Careful-ish: A Ridiculous Romp Through COVID-Living As Seen Through The Eyes Of Ridiculous People (Careful-ish Series)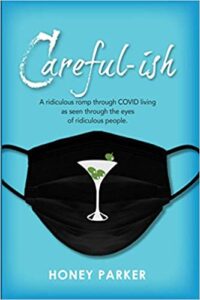 Overeating. Oversharing. Overindulging. Over it all. Video chats. Not enough distancing. Alcohol. What could go wrong? And what are people doing when they think nobody is watching? Meet six friends who are COVID quarantining in The Greatest City On Earth. They struggle to have a social life, pay the bills, launch new businesses, hold on to long-distance relationships, not go nuts, wipe, and maybe, just maybe, still have sex. How can people in lockdown have so much drama? There's the nice Jewish fledgling TV news chick with a boss who won't stop dumping her purse into her green reporter's lap. Meet the African-American financial young gun who's trying to not quit before he gets fired. His white-punk roommate is a mathematician turned chef whose out-of-work antics could drive anyone crazy. The hard-edged Chinese-American floral designer who's harboring a secret is getting into fights with the socially-distanced supermarket line standers outside her window. The post-hippie hair stylist who now sports an article in front of her name is getting a special "package" from the parcel delivery guy. And the token ne'er-do-well from the Middle East is setting up an obstacle course in his penthouse apartment. Can he get himself on that ninja warrior TV show? All of these ridiculous people have something in common: a standing weekly cocktail date that they are determined to maintain while being socially distant and, well, careful-ish.