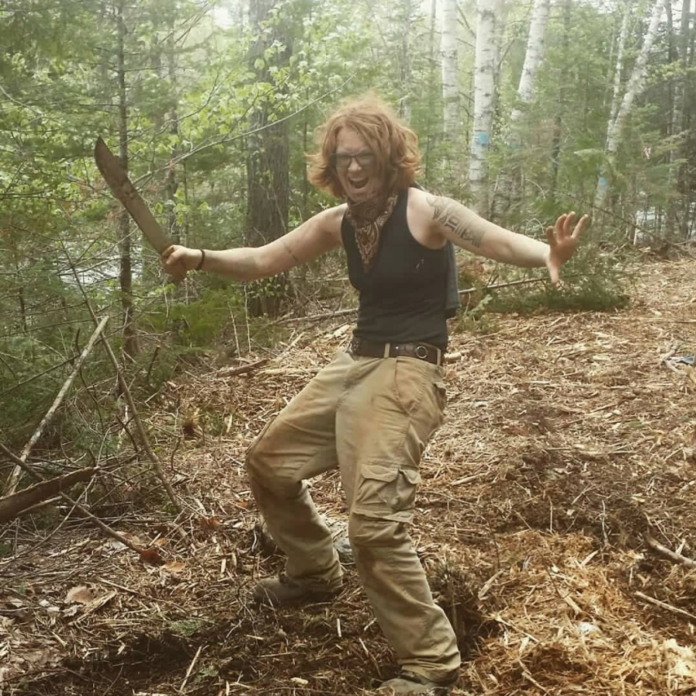 Celebrating Diversity This Month……
Meet The Author: V.S. Holmes
Hey there!
I'm V, internationally bestselling sci-fi fantasy author, non-binary trans person, and total nerd. When I'm not writing, I work as a contract archaeologist–no it's not quite like the Indiana Jones films, but we do important work. Luckily, my Stars Edge: Nel Bently series follows a fellow archaeologist. Like my coworkers and me, she's crass and adventurous and full of fire. Here's a photo taken during a particularly grueling project–we knew if the heat didn't get us, the bugs would!
Something that Nel hates, however, is science fiction and space. Of course, that's exactly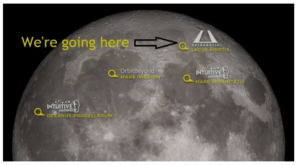 where I sent her. While it's true that she does sign on for a few jobs that are pretty far from her home planet (117.3 trillion kilometers, to be exact) I also mean an excerpt of Travelers, the first Nel book, is literally headed to the Moon!
It comes as no surprise, I'm sure, that a science fiction author adores space, even if one of their protagonists doesn't. With the help of my friend and fellow sci-fi author Ariele Sieling, I joined Susan K. Quinn's Writers on the Moon project, which is sending a time capsule of writing on the Peregrine Moon Lander. All of our work will be stored at Lactus Mortis, a plain formed by a lava flow in the late Imbrium. To say I was beside myself would be an understatement. I was also able to send a photo and memorial of my father, who fostered my love of science and science fiction.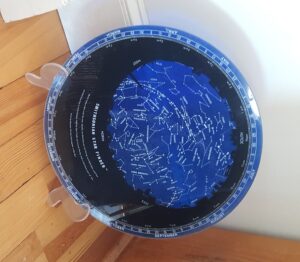 His stories of flight and aliens and hope are my dearest memories of childhood. This picture shows the star chart we used with his telescope–I still find it easier than some of the apps, plus I don't need cell signal! Most television was banned while I was a kid, but I was allowed Cosmos and Nature. While other children were quoting Rug Rats, I was talking about the billions and billions of stars we had and longing to be Ellie Arrowway in Sagan's Contact. I didn't make a lot of friends that way, but I did fall deeply in love with space and exploration.
This is something that I've carried throughout my life, and weave into the patterns of all my fiction, whether in the hope and explosions of the Stars Edge: Nel Bently Books or the complicated internal worlds of failed gods in my Blood of Titan's epic fantasy world. I hope you'll catch some of my love letters to humanity and space in my work.
Come nerd-out with me on Twitter, Instagram, and Facebook and, as always, keep exploring.
Here's a quick look at V.S.'s latest release: Travelers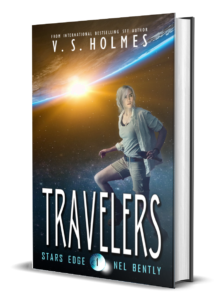 No one fights dirtier than an archaeologist.
​Dr. Nel Bently has barely dug into Chile's dry earth when her pristine site is vandalized. Her archaeologist's dream of a ground-breaking project funded by a private patron turns into a nightmare: local activists Los Pobladores take issue with anyone brave–or stubborn–enough to set boots on their land. And foul-mouthed Nel is stubborn as they come.
Despite the danger, Nel refuses to surrender her site to vandals. Easier said than done, however, with the greenest crew she's ever trained, absurd radiocarbon dates, and angry militants who may actually have a point.
When Los Pobledores land a blow that turns Nel's world upside down, she realizes her mysterious benefactor is playing chess with their lives. Grief-stricken and angrier than ever, Nel is ready to fight dirty.
To Learn more about V.S. Holmes, follow these LINKS:
Site: www.vsholmes.com
Twitter: https://twitter.com/VS_Holmes
Facebook: https://www.facebook.com/authorvsholmes/
Instagram: https://www.instagram.com/vs_holmes/
Goodreads: https://www.goodreads.com/vs-holmes
Bookbub: https://www.bookbub.com/profile/v-s-holmes