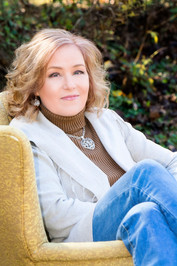 Sports, romance, and writing with author Tracy Solheim
Tracy Solheim's creative writing career began in the 4th grade when she published her first book.
It was a bestseller–mainly because her dad bought all ten copies she made on the school's prehistoric Xerox machine.
From there, she moved to writing a monthly column in a local newspaper. A bachelor's degree in journalism from the University of Tennessee landed her in Washington, DC, writing reports for Congress while pursuing a Master's degree in Legislative Affairs from The George Washington University.
Other than a brief gig with NBC Sports at the (1988) Seoul Olympics, most of her early writing consisted of crafting lengthy government reports, but in May 2013 her dream of becoming a published author came true with the release of her debut novel, GAME ON.
Her latest book, Just for Kicks, is the first of her newest series.
Find Tracy at her website, FB, IG, Goodreads, Pinterest, and BookBub.
Here's a look at Tracy's latest release: JUST FOR KICKS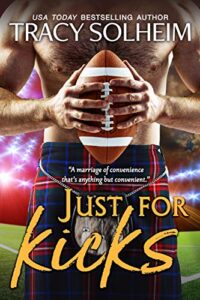 There's a new team in town. Milwaukee Growlers Football Book 1
It was supposed to be just for kicks…
Andi Larsen learned early on there is no such thing as fairy godmothers. A childhood spent in foster care will do that to a girl. She's working her way through night school and is on the cusp of establishing her own business without help from anyone, thank you very much. But when her deadbeat ex steals her identity, amassing a staggering debt in her name, her fairy godmother appears in the guise of a spunky, Fireball whisky-wielding septuagenarian. The older woman's solution for Andi? Tie the knot with a kilt-wearing, moody jock whose legs look sexier in a skirt than hers do.
Declan Fletcher never intended to be a place-kicker for a professional football team. But fate had other plans. Exiled from his beloved Scotland a decade ago, Dex is now a superstar athlete known throughout the league as the "Man with the Million Dollar Leg." But when a mix-up in his immigration paperwork threatens to send him home before the season begins, he'll do anything to avoid deportation and facing his greatest mistake. Even if it means marrying a pink-haired waif of a lass with eyes that seem to see everything he's determined to keep hidden.
A grumpy cat, nosy teammates, and a sizzling sexual attraction make their marriage of convenience anything but convenient.