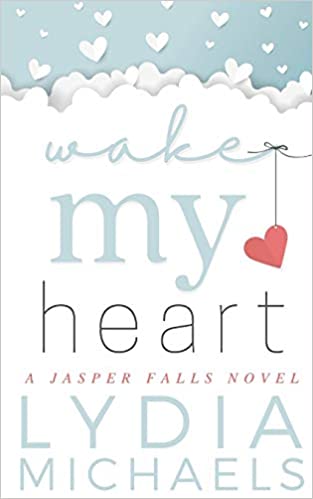 WAKE MY HEART BY LYDIA MICHAELS
Book Review by Maureen Gianinio
This is a story of love, loss, and knowing love again. It is also a story of self-healing and self-discovery. The Heart is a Muscle that needs to be used. Maggie's life revolved around her childhood sweetheart and husband, Nash, until he died in a tragic accident. That day her heart stopped, not knowing how to move forward without the one constant for most of her life. Her grief was her life. Guilt grabbing her whenever she felt happiness or a desire for anything that didn't keep Nash in mind. She pushed emotions away afraid to feel have people in her life for fear she could lose them too. Good times never lasted.
Ryan always gave himself to his family. The single family member who could always be counted on, under their expectant watch he didn't know who he wanted to be or how to be open to love from someone of his choosing. If there was anyone out there just for him.. He moved for distance, to have space for himself. He worried about opening himself to someone for fear he would be rejected. Maybe being alone was better. But meeting the girl next door changed that. Opened his heart to his own desires. Her.
Due to their Close proximity as neighbors, and even if it was one thing that annoyed him about his large family-being counted on to giving up your time for family- Ryan knew how to be a good neighbor and help out, using patience and understanding because of it.  It was the one thing that gave him the upper hand in winning Maggie's heart since it was exactly what Maggie needed and built a connection between them.
As Maggie's heart began to wake, it scared her.  Guilt for being happy, for feeling. Scared something bad will eventually happen. Kept her at a slower pace than Ryan in discovering what they could have. Being open to a today and hope. But slowly the friendship, their connection could not be stopped or sabotaged no matter how consciously or unconsciously she tried. She started realizing she like how her life was around Ryan . She started to like discovering who she was without Nash, discovering she could have happiness and still keep his memory, her love for him part of her life.  Her heart got a work out.
Lydia Micheal's does a great job using their lives to help them build a slow strong trust, work through issues as individuals and as a couple, a friendship grows to love. A surrender to attraction. Through Ryan's patience and understanding, his determination, the exposure to the love of family, Ryan's and her sister, the help of a therapist, Maggie begins to bloom.
She discovers more about herself and realizes she can let people in, discover who she is, and still hold onto her love for Nash. Making her stronger heart with new love, too. She learns she is needed, wanted, in other people's lives and she likes it. She also begins to like the balance of wanting them in her life, too.
Ryan learns he can have a love all his own. He can acknowledge his limits with family without distancing himself from their love.
An emotional rollercoaster, tears and laughter, I became attached to many of the characters. And after grief of all kinds is faced, I wanted them to have happiness. I can't wait to read what's next for Jasper Falls.