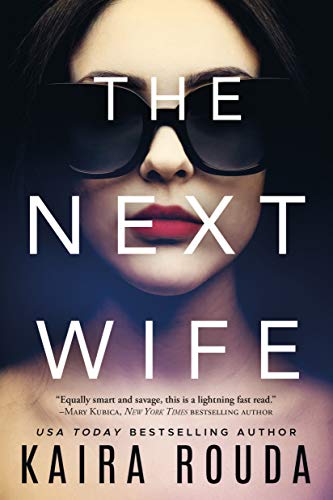 THE NEXT WIFE by Kaira Rouda
There is no limit to the lies, suspicion, and secrets that can poison the perfect marriage in this twisting novel of suspense by USA Today bestselling author Kaira Rouda.
Kate Nelson had it all. A flourishing company founded with her husband, John; a happy marriage; and a daughter, Ashlyn. The picture-perfect family. Until John left for another woman. Tish is half his age. Ambitious. She's cultivated a friendship with Ashlyn. Tish believes she's won.
She's wrong.
Tish Nelson has it all. Youth, influence, a life of luxury, and a new husband. But the truth is, there's a lot of baggage. Namely, his first wife―and suspicions of his infidelity. After all, that's how she got John. Maybe it's time for a romantic getaway, far from his vindictive ex. If Kate plans on getting John back, Tish is one step ahead of her.
She thinks.
But what happens next is something neither Kate nor Tish saw coming. As best-laid plans come undone, there's no telling what a woman will do in the name of love―and revenge.
You can purchase THE NEXT WIFE at:
Amazon: https://www.amazon.com/Next-Wife-Kaira-Rouda/dp/154202594X
Indiebound: https://www.indiebound.org/book/9781542025942
Barnes & Noble: https://www.barnesandnoble.com/w/the-next-wife-kaira-rouda/1137320283?ean=9781542025942
Bookshop: https://bookshop.org/books/the-next-wife/9781542025942
ABOUT THE AUTHOR: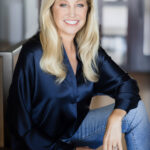 Kaira Rouda is an award–winning USA Today bestselling author of contemporary fiction that explores what goes on beneath the surface of seemingly perfect lives. Her novels of domestic suspense include The Favorite Daughter, Best Day Ever, and All the Difference. To date, Kaira's work has been translated into more than ten languages.
A former magazine editor and society columnist, Kaira won the Stevie Award for Women in Business for creating the first female-focused residential real estate brand, Real Living, and growing the brand to more than 22 states before its sale to Berkshire Hathaway. Her first book, Real You Incorporated: 8 Essentials for Women Entrepreneurs, led to a national speaking tour where she inspired thousands.
Active in the areas of homelessness, food security, and empowering women and girls, in her twenties, as a volunteer, she created the first walk-in emergency shelter for homeless families in Central Ohio. Kaira has received numerous awards for her community service, including the national Kiwanis Service to Mankind Award, among many others. Kaira Rouda lives in Southern California with her  family.
Social media links
Website: www.kairarouda.com
Instagram: @kairarouda 
Facebook: @kairaroudabooks
Twitter: @KairaRouda