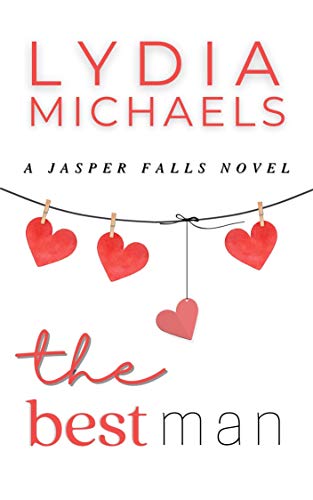 The Best Man (Jasper Falls, #2) by  Lydia Michaels
Lydia Michaels writes a story with a powerful impact for its length. I really enjoyed this second installment of the Jasper Falls Series.
A second chance friends to lovers. I was giggling at the situation best friends, Patrick and Jo, landed themselves in on their return to Jasper Falls for a wedding. At the same time the reasons for their deceptions made my heart ache. Patrick has loved Jo's twin Julie since kindergarten but always felt that friendship was all she'd allow. Jo knew her mother would never accept her for who she really was. She'd never been strong enough to realize she didn't need her acceptance. Their were many in her life that had her back. And she knew herself. Love these characters, Patrick a strong hero and Jo the perfect best friend and sister of the heroine.
The story starts with the main characters already on the road to resolving major conflicts in their lives and hoping they were on the right path.
Julie a victim of gaslighting abuse from her hopefully ex-fiance has returned home for the wedding, and hoping to regain her confidence, hoping she can find and trust her own mind. She pulled at my emotions and had me hoping for her future the first sentence from her POV.
Patrick has returned home to Jasper Falls to become the local doctor. He's loved Julie since kindergarten but assumed he was permanently friend zoned. In his heart he knew they were meant for each other and all the turn of events leading to the Wedding give him the chance to prove it to her.
Julie notices the difference in Patrick versus her life with Lance. How he makes her feel safe and lends his strength and support to her choices instead of tearing her down and filling her with doubt. He always had. This was a healthy desirable relationship.
But Patrick knows the final choice has to be hers. She had to reclaim her life. And in a "OMG you go girl" eruptive ending…both Julie…and Jo do just that! An awesome Happily Ever After!
Recommend everyone get to know the citizens of Jasper Falls