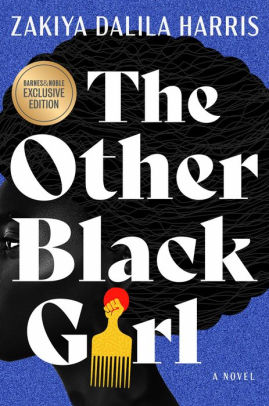 Barnes & Noble Selects Zakiya Dalila Harris's The Other Black Girl as June 2021 National Book Club Selection
Readers are Invited to a Free Virtual Book Club Event Featuring Zakiya Dalila Harris in Conversation with Dawnie Walton on Tuesday, July 13
Barnes & Noble, Inc., with bookstores in every state across the United States, today announced The Other Black Girl by Zakiya Dalila Harris as the June 2021 selection for the Barnes & Noble Book Club, a monthly book club designed for readers across the country to discuss the most compelling books.
Barnes & Noble is selling a special, exclusive Book Club edition of The Other Black Girl as well as hosting a free LIVE virtual event on the Barnes & Noble Facebook Page with Zakiya Dalila Harris in conversation with Dawnie Walton, author of The Final Revival of Opal & Nev, about the book on Tuesday, July 13, at 3pm Eastern Time. Customers can purchase the exclusive edition, in-stores or online at BN.com.
"The Other Black Girl is a thought-provoking, exciting debut that examines race, class and gender in the publishing industry." said Shannon DeVito, Director of Books, Barnes & Noble. "We are sure our Book Club readers will love this twist filled, smart, sharp and completely original novel."
Barnes & Noble invites customers to join the B&N Book Club Facebook Group to share their views of the book as well as attend the virtual Book Club event next month to hear from Zakiya Dalila Harris.  
"I am thrilled Barnes & Noble has chosen The Other Black Girl as their June Book Club Pick. Growing up, my local B&N in North Haven, Connecticut was a formative part of my reading journey. My parents often took me there, so that I could add onto whatever series I was obsessed with at the time, or just to see what was new and caught my eye," said Zakiya Dalila Harris. "Now, I love getting lost in the Barnes & Noble on 17th Street in New York City, winding my way through the stacks, browsing the tables for new discoveries, and finding gifts for myself and for others. I cannot wait to see The Other Black Girl on B&N's shelves this June! It will be such an honor for me."
The virtual event with Zakiya Dalila Harris and Dawnie Walton on June 1 will be hosted on Barnes & Noble's Facebook Page. Before the virtual event, customers can also join in discussion at their convenience on the new B&N Book Club Facebook group and on social media via the hashtag #BNBookClub.
Previous Barnes & Noble Book Club selections have included: The Female Persuasion by Meg Wolitzer, An Absolutely Remarkable Thing by Hank Green, The Last Romantics by Tara Conklin, The Island of Sea Women by Lisa See, Lost Roses by Martha Hall Kelly, Mrs. Everything by Jennifer Weiner, The Nickel Boys by Colson Whitehead, Inland by Téa Obreht, The Testaments by Margaret Atwood, Dear Edward by Ann Napolitano, The Vanishing Half by Brit Bennett, and Leave the World Behind by Rumaan Alam.