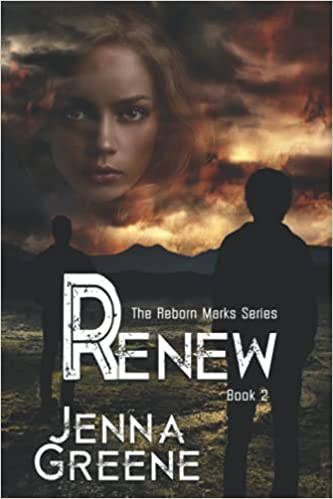 RENEW BY JENNA GREENE
The Red Queen meets The Hunger Games In….RENEW
Book 2 of the Reborn Marks Series
Read Renew to find out if being branded a reborn is a myth, a curse…or a destiny.
Haunted by memories of those left behind, Lexil and Finn are forced to venture back into the Wastelands.
The Unclaimed Cities are not the idyllic setting Lexil, Finn, and Ceera thought it would be. This new land has challenges of its own – which they soon discover.
When Lexil and Finn return to the Wastelands, they are accompanied by Kaylen, someone they can't decide is a friend or foe. As they retrace their path, they meet up with old allies and enemies, and encounter other treachery embedded in the Wastelands. The trio are forced to face their own assumptions, prejudices, and fears.
In the end, to change her fate and alter the destiny of all others
Amazon.ca:   Renew: Amazon.ca: Greene, Jenna: Books
Amazon.com:   Renew (The Reborn Marks): Greene, Jenna: 9781645830498: Amazon.com: Books
ABOUT THE AUTHOR:
Jenna Greene is a teacher and author, whose hobbies include dancing, dragonboating, and napping. Her novel, Reborn, won the 2019 Moonbeam Children's Book award. She is the co-host of "Quill and Ink: A Podcast for Booklovers" which is part of the Authors On The Air Network 
Further information about the book and Jenna can be found at: JENNA GREENE – Jenna Greene