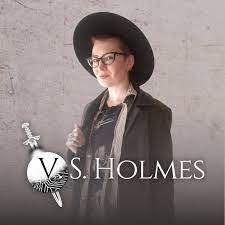 Special Feature — Celebrating Fathers
What My Father Taught Me By V.S. Holmes
It would be easy to say my father taught me everything. It'd almost be true. There were many occasions where he'd sit down with a tool or piece of machinery and say something like "Want to learn how to wire an outlet?" But there were just as many times that we sat or walked or drove in silence, and he taught me the meaning of introspection, of thought, and of stillness.
My dad gave me his temper. Watching him, I learned to control it–most of the time. He gave me my sense of direction and understanding of math and space and physics. He gave me a love of flight, and the mental wings to fly. He taught me to be awed at the beauty of the world, and to fight against its inevitable shortcomings. He taught me to love and reason and rage.
My dad was a complex man, full of humor and pride and thoughts. He believed in spiritualism, in reincarnation, in ghosts, in aliens. He hitchhiked across the country more than once, worked on F-105 Thunderchiefs, and helped put two of his employees through college. As a child I asked with utter sincerity why National Geographic hadn't written a piece on him, because, clearly, he and his adventures belonged beside centerfolds of Everest's Peak and a newly discovered species of night-blooming jungle flower. (And hey, it's not too late: if you have an in at Nat Geo, I'd be happy to draft something for you.)
We shared stories too: The Hobbit, Redwall, and Jonathan Livingston Seagull. Stories with accidental heroes and flight, of exploration and wonder and danger. Stories that taught me how to live my life, how he lived his: ceaselessly. Later, we shared Contact, and Interstellar. Both father-child stories, set against a backdrop of space exploration and hope for humanity. I think a part of me did not know my father truly, until in the theatre, holding his hand, I heard the refrain of Dylan Thomas's poem: "Do not go gentle into that good night."
One of my earliest memories is when the hospital called to say they finally had a liver for him. Because of the incredible gift of life through organ donation, my father lived another 27 years. From that moment forward, our time was a gift, a bonus, and we knew it. It's a powerful thing, having every minute tinged with the knowledge that it's borrowed. I refused to delete any voicemail, even the pointless ones. I saved every birthday card he signed. But those actions weren't filled with sorrow. Only honesty. For as long as I can remember, I have been saying goodbye to my dad.
Knowing every moment is a gift, was a gift in itself. My father taught me how to live; and for his final lesson, he taught me how to die. When our borrowed time came to a close, my father chose not to undergo another transplant. He chose to give whatever added years he could have had to another, younger person, who still had lessons yet to teach. He met mortality with grace, with understanding, and even at times curiosity.
Over the years, his stories have made their way into mine, the way everything that ever nourished us becomes a part of our blood, our brains, our bones. While I am sure there were a thousand tales he never told me, he taught me how to create my own.
Note: Along with an excerpt of my book, Travelers, a memorial of my father will be sent to the Moon as part of the Writers on the Moon time capsule aboard the Peregrine Moon Lander Mission. If you're interested in becoming an organ donor–and you should be!–you can sign up at donatelife.net/
Here's a look at her latest release: HERETICS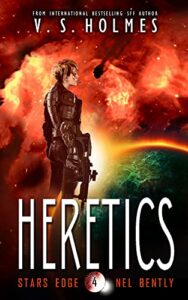 Hot-tempered Dr. Nel Bently is not cut out to save the world. After her last project ended in fire and death, Nel must put aside distrust of just about everyone and embark on a lo-fi search for a deadly radio transmission. Except Earth's survivors are torn between the austere superpower of IDH and the high-tech, grassroots Los Pobledores.
More allies go missing at every turn, and Nel questions where her true loyalties lie–and on which side Lin will fall when a line is finally drawn. They need experts. They need firepower. But it looks like the only thing standing between Earth and devastation is Nel: archaeologist, asshole, and functioning alcoholic with anger issues.
V. S. HOLMES
V. S. Holmes is an international bestselling author. They created the BLOOD OF TITANS series and the NEL BENTLY BOOKS. Smoke and Rain, the first book in their fantasy quartet, won New Apple Literary's Excellence in Independent Publishing Award in 2015 and a Literary Titan Gold in 2020. Travelers is also included in the Peregrine Moon Lander mission as part of the Writers on the Moon Time Capsule. In addition, they have published short fiction in several anthologies.
As a disabled and non-binary human, they work as an advocate and educator for representation in SFF worlds. When not writing, they work as a contract archaeologist throughout the northeastern U.S. They live in a Tiny House with their spouse, a fellow archaeologist, their not-so-tiny dog, and own too many books for such a small abode.
LINKS:
Site: www.vsholmes.com
Amazon: https://www.amazon.com/V-S-Holmes/e/B014B55FJ0/
Twitter: https://twitter.com/VS_Holmes
Facebook: https://www.facebook.com/vsholmesofficial/
Instagram: https://www.instagram.com/vs_holmes/
Goodreads: https://www.goodreads.com/vs_holmes
Bookbub: https://www.bookbub.com/profile/v-s-holmes