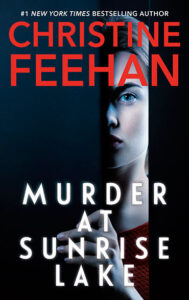 A true mystery/thriller, Murder at Sunrise Lake by bestselling author Christine Feehan is layered with everything a mystery reader and Feehan fan will love!
Stella, our heroine, has a troubled past that has given her a psychic gift she'd rather not have. When her nightmares tip her off to a pending murder she knows she can't just go to the police.
Sam has worked for Stella for years. His quiet strength has always meant the world to Stella. So much so, she's not sure if she should act on the feelings he inspired in her. Luckily, Sam's slow-burn approach to romance is exactly what Stella needs. And what romance readers will love!
Feehan, who is known for her more erotic romance writing has stepped back a bit in this one. Yes, there is romance. Yes, there's sex. But, nothing graphic at all.
This really is a slight departure from her other novels but a refreshing example of an author's ability to do something new. You still have the romance Feehan is so well-known for, the HEA, the amazing descriptions and characters you love, but this is truly a murder mystery that I would still call romantic suspense.
It will be interesting to see how Feehan fans respond to the standalone and how many new readers will find Feehan with this new endeavor in expanding her talent into the mystery genre.
I was given an ARC in exchange for an honest review.