MEET FANTASY AUTHOR MARIE POWELL
Castle hopper and writer of all things Young Adult fantasy.
Marie Powell's adventures in castle-hopping across North Wales resulted in her award-winning historical fantasy series Last of the Gifted: Spirit Sight and Water Sight (participation made possible through Creative Saskatchewan's Book Publishing Production Grant Program). A compulsive writer, she has also written more than 40 traditionally published children's books, a gaggle of short stories and poetry in literary magazines, and a few thousand magazine articles in print and online. Not satisfied with one university degree, she now has five — including a Master of Fine Arts (MFA) in Creative Writing from UBC. Marie likes everything in extremes, including the weather — which is why she loves living in Saskatchewan.
Find her at mariepowell.ca (https://mariepowell.ca)
Here's a look at Marie's latest release WATER SIGHT:LAST OF THE GIFTED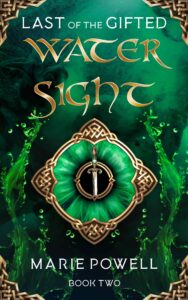 Wales, 1283: A world at war
Catrin can see the future in a drop of water. Her brother Hyw can take the shape of any bird or animal.Only their magic can thwart the invading English forces determined to bring down the country.
The Prince of Wales needs three magical relics to rally the straggling Welsh forces. Catrin's gift of Second Sight may be the only hope for success—if she can outwit the English lord who wants to use her gift to capture the prince.
Her brother Hyw is on the run with the prince and the dwindling Welsh army. To escape the betrayal dogging their heels, Hyw takes refuge in his evolving gift—until shifting shapes puts his humanity in jeopardy.
With Hyw trapped in his magic and her betrothed in an English jail, Catrin faces an impossible choice: save her brother, or save the man she loves.
This award-winning medieval fantasy series combines magic, mythology, and historical legends with the realities of Wales in 1282-3.
Website: https://mariepowell.ca
Facebook: https://www.facebook.com/LastoftheGifted or https://www.facebook.com/mariepowellauthor/
Twitter: @mepowell (https://twitter.com/mepowell)
Instagram: @mariepowellauthor (https://www.instagram.com/mariepowellauthor/)
Booklinks: https://mariepowell.ca/booklinks/