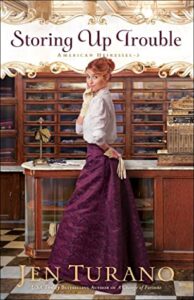 Storing Up Trouble by Jen Turano
My rating: 4 of 5 stars
This was a good book. I'm glad I was able to listen to it, instead of reading it. I think it brought out more of the characters personalities with the audio. Beatrix is a song main character. She is involved in the Suffrage Movement and is strong willed. This however gets her into some trouble and she is sent to live with her Aunt. However, her Aunt is just as strong willed and independent as she it. Norman is an amazing person that has followed his own heart to do what makes him happy. What makes him happy? Doing experiments and trying to solve problems. So when these two are together it's safe to say nothing is ever boring. Happy reading my friends.
Book Summary:
After Miss Beatrix Waterbury suffers multiple mishaps due to her involvement with the suffrage movement, her mother decides a change of scenery is in order for her incorrigible daughter. Banished from New York, Beatrix is sent off for an extended stay with her Aunt Gladys in Chicago.
Mr. Norman Nesbit, a gentleman and a brilliant man of science devoted to his work, doesn't have time to be distracted with members of the feminine set. When robbers descend on the train, intent on divesting him from his important research papers, Norman is thrust into Beatrix's company when she has the audacity to interfere—leaving him no choice but to try to save her from herself.
When Beatrix's life is put at stake after she takes employment as a salesgirl, she and Norman find themselves propelled into each other's company again and again. With danger and intrigue dogging their every step, they become surprisingly drawn to each other—until information comes to light that threatens this relationship that's barely had a chance to blossom.