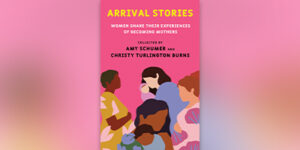 Amy Schumer Co-Curates ARRIVAL STORIES, Coming From The Dial Press in Spring 2022
The Dial Press announced that ARRIVAL STORIES: Women Share Their Experiences of Becoming Mothers, a revealing collection of more than 20 original essays, curated by Amy Schumer and Christy Turlington Burns, will be published on April 5, 2022. In this anthology, Schumer and Turlington Burns bring together a diverse group of women—actors, athletes, academics, CEOs, writers, small business owners, birth workers, physicians, and activists—to share their experiences of becoming mothers. Whitney Frick and Annie Chagnot acquired North American rights from Claudia Ballard at WME.
Throughout her difficult pregnancy, Schumer found camaraderie and empowerment in hearing birth stories from other women, including those of her friend, activist Christy Turlington Burns. It is through these conversations that the idea for this book was born.
ARRIVAL STORIES presents an informative and deeply-affecting account of the kaleidoscope of emotions present when a woman first realizes she is a mother. This book provides a sweeping view of motherhood and shines a light on the grave injustices women of color face in maternal healthcare.
Schumer, Turlington Burns, and many of the contributors to this anthology are donating their proceeds to Every Mother Counts, the nonprofit founded by Turlington Burns, which works to make pregnancy and childbirth safe, respectful, and equitable for every mother, everywhere. In addition to Schumer and Turlington Burns, contributors include La La Anthony, Adrienne Bosh, Rachel Feinstein, Sienna Miller, Alysia Montaño, Emily Oster, Jill Scott, Shilpa Shah, Amber Tamblyn, Serena Williams, and Katrina Yoder. The cover art is by Kenesha Sneed.
Amy Schumer is one of the most influential figures in the entertainment industry as a stand-up comedian, actress, writer, producer, and director. She is the recipient of a Peabody award, a Critics' Choice Television Award, and two Primetime Emmy Awards. She was raised in New York City and Long Island and is a mother.
#penguinrandomhouse