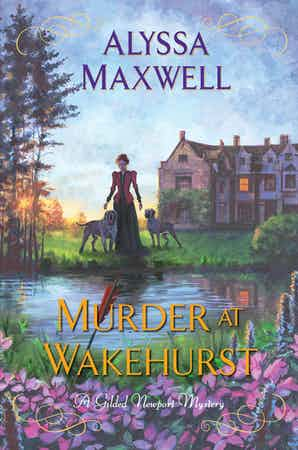 Murder at Wakehurst – A Gilded Newport Mystery #9
by Alyssa Maxwell
In the autumnal chill of Newport, Rhode Island, at the close of the nineteenth century, journalist Emma Cross discovers an instance of cold-blooded murder on the grounds of a mansion…
Following the death of her uncle, Cornelius Vanderbilt, in September 1899, a somber Emma is in no mood for one of Newport's extravagant parties. But to keep Vanderbilt's reckless son Neily out of trouble, she agrees to accompany him to an Elizabethan fete on the lavish grounds of Wakehurst, the Ochre Point "cottage" modeled after an English palace, owned by Anglophile James Van Alen.
Held in Wakehurst's English-style gardens, the festivities will include a swordplay demonstration, an archery competition, scenes from Shakespeare's plays, and even a joust. As Emma wanders the grounds distracted by grief, she overhears a fierce argument between a man and a woman behind a tall hedge. As the joust begins, she's drawn by the barking of Van Alen's dogs and finds a man on the ground, an arrow through his chest.
The victim is one of the 400's most influential members, Judge Clayton Schuyler. Could one of the countless criminals he'd imprisoned over the years have returned to seek revenge–or could one of his own family members have targeted him? With the help of her beau Derrick Andrews and Detective Jesse Whyte, Emma begins to learn the judge was not the straight arrow he appeared to be. As their investigation leads them in ever-widening circles, Emma will have to score a bull's eye to stop the killer from taking another life…
Shot Caller – NYPD Negotiators #2
by Jen J. Danna
In Jen J. Danna's gripping suspense series, NYPD detective Gemma Capello is called to Rikers Island, where a prison riot threatens to become a bloodbath…
On Rikers Island, tensions always run high, especially in the Enhanced Supervision Housing unit. The ESH is home to Rikers' most dangerous offenders, many of them members of rival street gangs. When Gemma Capello and her team get word of an uprising at the ESH, they know how much is at stake. Gemma also has her own unresolved feelings to deal with–this is the first case she and Detective Sean Logan have worked together since a siege at City Hall that ended with the hostage taker's death.
Built to hinder escape, prisons are also especially difficult for a tactical team to invade. That's a last resort for Gemma, but the longer the inmates remain in control, holding corrections officers hostage, the greater the risk. Gemma begins negotiating with Kill Switch, a young, aggressive member of the Filero Kings gang and the inmates' spokesman. She can tell the stress level is escalating inside. That may give her team some advantages, but it soon leads to a brutal act of retribution–and threats of more to come.
Navigating assumptions on all sides, Gemma desperately tries to stop the body count from rising. But with disagreements and volatility increasing all around, the only certainty is that the next misstep may be a fatal one…
Coached in the Act — A Cat & Gilley Life Coach Mystery #3
by Victoria Laurie
As East Hampton's go-to life coach, Cat Cooper and her BFF, Gilley, delve into the exclusive personal lives of the rich and infamous. But with local gossip growing vicious, knowing too much information can be a death sentence…
Wild rumors are swirling in the Hamptons over "Twelve Angry Men," a ruthlessly revealing one-woman show written and performed by Yelena Galanis. The well-known socialite dated her way through some of the East End's most eligible bachelors, and now she's sparing few details while spilling their humiliating secrets to scandalized crowds. It's a mean-spirited spectacle that urges Cat to make a beeline for the theater exit during the first act–only to later discover that Yelena was found stabbed to death during intermission that same evening…
Adding to the disturbing news, Cat realizes she may have had a close encounter with the murderer. But when the one lead gives way to another violent death, her newest client–romantically linked to Yelena–gets tagged as the prime suspect. Believing eleven other barely-anonymous men had reasons to kill the thespian for playing a cruel game of kiss and tell, Cat teams up with her sidekick, Gilley, to track down Yelena's list of rejected lovers and identify the vengeful culprit stalking around the seaside community, lingering frighteningly close to home…