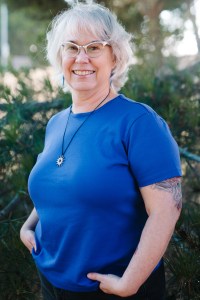 My Favorite Dessert by Loren Rhoads
A couple of years ago, I hit upon the perfect way to celebrate my birthday. A restaurant opened in San Francisco that was completely dark inside. Food was served—and eaten—in total darkness. When I told my friends about Opaque, the general reaction was "Why would you want to do that?"
Opaque's menu was limited to three simple courses. You could choose an appetizer, a main dish, and a dessert—or you could ask them to surprise you. I wasn't ready for that level of risk, but I did commit to the mystery dessert.
Our waitress arrived to take us to our table. Like all the servers at Opaque, she was legally blind. She turned away from us, then asked me to place my hands on her shoulders. My husband Mason put his hands on my shoulders, kind of like a conga line. Then the waitress led us through some twists and turns away from the lighted hallway into the dark.
I'm not afraid of the dark, but I don't like small places. This total blackness felt claustrophobic to me. While other restaurants might blindfold you to give you the experience of eating while blind, Opaque stressed that their restaurant was entirely dark. I'd wondered how they accomplished that. Obviously, the lights would be off. Were the windows painted over? Were the tables curtained off? Surely, there must be a lighted Exit sign at least? The answer was the one I didn't consider: Opaque was located in a basement. In earthquake country. With no Exit signs. In utter blackness. After Mason and I had been seated, I fought down a panic attack.
The table had been set before we arrived. I ran my fingertips over the silverware. Mason was instructed to meet the server at the edge of the table where she would pass him the food and clear away our dishes.
Flavors seemed brighter in the dark. My nose isn't very sensitive, but I could practically see the colors of flavors as we explored a plate of mystery crudités. The lemon aioli was bright yellow, probably brighter than if I had been able to see it. The sun-dried tomato dip tasted orangish pink. The hummus felt toasty brown. We gobbled up the slices of bell peppers and carrots. The server complimented us on recognizing so many of the flavors.
I found it surprisingly easy to use a fork without seeing what I was doing. If you think about it, your hand knows how to feed you. Unless you eat in front of a mirror, you never see how your hand moves or where exactly your mouth is. Your body learned what to do when you were very young. The only part of the meal that made me uncomfortable was when I misplaced my fork. Instead of putting it down on the right-hand side of my plate, I set the fork down along the top. I thought I'd need to admit to the server that I'd lost it on the table, but my frantic fingers finally bumped into it.
While I didn't actually need my mystery dessert, I wasn't ready for the experience to be over. I figured I'd eat a few experimental bites, then push it aside. Instead, the first bite gave me shivers of pleasure. Vanilla ice cream, drizzled with warm caramel sauce, melted atop hot apple crumble. It was exactly the dessert I would have ordered, if it had been on the menu.
I recreated it at home:
Vanilla Ice Cream
2-1/2 cups milk
1 cup sugar
2 cups heavy cream
1-1/2 to 2 tablespoons vanilla
Use a hand mixer to combine the milk and sugar until the sugar dissolves (under 2 minutes). Stir in the cream and vanilla. Pour into ice cream freezer and set to run for 25 minutes. Transfer to a container and let freeze for another 2 hours.
Apple Crumble
5 cups peeled apple slices
1/2 cup honey
1/2 cup butter
1 cup quick oats
1/2 cup whole wheat flour
1/2 cup brown sugar
Combine the apple slices and honey in the bottom of a 2-quart casserole. Combine the butter, oats, flour, and brown sugar until crumbly. Sprinkle the crumbles over the apples. Bake in a pre-heated 350° oven until the topping is brown and the apples are tender (about 1 hour).
Caramel Sauce
1/2 cup butter
1/2 cup half and half
1 cup brown sugar
1 tablespoon vanilla
Combine the butter, half and half, and sugar in a saucepan over medium-low heat. Whisk gently until it thickens, 5 to 7 minutes. Turn off the heat and add the vanilla. Serve warm.
***
Loren Rhoads is the author of 199 Cemeteries to See Before You Die and Wish You Were Here: Adventures in Cemetery Travel. The full story of "Dining in the Dark" is included in This Morbid Life, a memoir comprised of 45 death-positive essays.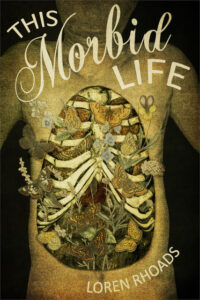 Take a look at THIS MORBID LIFE:
What others have called an obsession with death is really a desperate romance with life. Guided by curiosity, compassion, and a truly strange sense of humor, this particular morbid life is detailed through a death-positive collection of 45 confessional essays. Along the way, author Loren Rhoads takes prom pictures in a cemetery, spends a couple of days in a cadaver lab, eats bugs, survives the AIDS epidemic, chases ghosts, and publishes a little magazine called Morbid Curiosity.
Originally written for zines from Cyber-Psychos AOD to Zine World and online magazines from Gothic.Net to Scoutie Girl, these emotionally charged essays showcase the morbid curiosity and dark humor that transformed Rhoads into a leading voice of the curious and creepy.
"Witty, touching, beautifully written, and haunting — in every sense of the word — This Morbid Life is an absolute must-read for anyone looking for an unusually bright and revealing journey into the darkest of corners. Highly recommended!" — M.Christian, author of Welcome To Weirdsville
For sale at Amazon now: https://amzn.to/3mhZajO