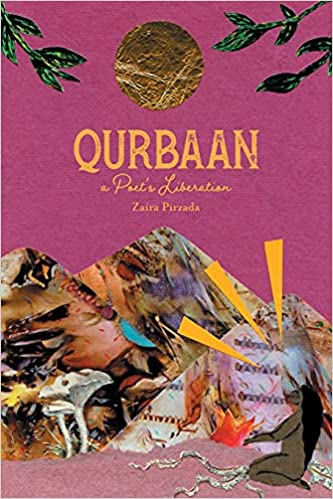 QURBAAN a Poet's Liberation
The Stunning Debut by Zaira Pirzada
A Devotee; A Martyr; A Sacrifice. Qurbaan is a word that is tragically romantic in its context. Qurbaan signifies a relentless and passionate devotion to something. Qurbaan is what I think of when my truth becomes the poetry that liberates my mind. This is my journey through love; through loss; through becoming in America. My truth is my sacrifice for the women, like myself, who will raise the next generation far from our ancestors.
Amazon.com: Amazon.com: Qurbaan: A Poet's Liberation: 9781950495177: Pirzada, Zaira: Books
Amazon.ca: Qurbaan: A Poet's Liberation : Pirzada, Zaira: Amazon.ca: Books
Barnes and Noble: Qurbaan: A Poet's Liberation by Zaira Pirzada, Paperback | Barnes & Noble® (barnesandnoble.com)
ABOUT THE AUTHOR:
Zaira Pirzada is a multi-lingual poet, an artist, a technologist, and an academic. Her art is inspired by her wide range of professional roles and the double-conscious experience of being an Indian-Pakistani-American woman. As a Meisner-trained actress from the world-renowned William Esper Studio, she counts acting and performing her poetry in spoken word from among her greatest artistic passions. When Zaira is not writing poetry or practicing her many arts, she is advising large and small enterprises in the data and cybersecurity space, and in furthering their Diversity, Equity and Inclusion initiatives. Zaira holds an M.A. in International Affairs focused in security, intelligence, and crisis communications. She is in the midst of furthering her education by pursuing an M.S. in Engineering in Data Science and Security Informatics from Johns Hopkins University. Zaira has worked at leading think tanks, and appeared in international media and television for her experience in acting and intelligence gathering.