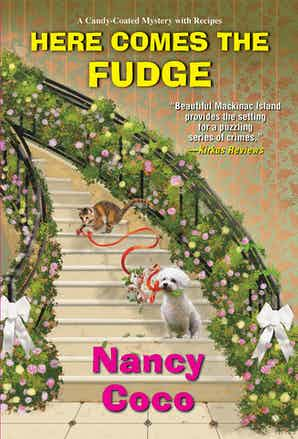 Here Comes the Fudge — A Candy-Coated Mystery #9
by Nancy Coco
Fudge shop owner Allie McMurphy never expected her maid of honor duties to include clearing the groom of murder… 
THE BODY OF A CRIME
It's late spring on picturesque Mackinac Island, Michigan.  Allie is prepping her Historic McMurphy Hotel and Fudge Shop for the start of the tourist season and her best friend Jenn's wedding. But when Jenn's fiancé Shane, a crime scene investigator on the island, misses a dinner date, the two friends go looking for him. Led by Allie's bichonpoo Mal into an alley, they come upon Shane standing over a body with a bloody knife in his hand. Shane won't say what's happened, just tells them to call 911. As the CSI is taken into custody by his colleagues, including Allie's beau Rex Manning, the fudge maker vows to prove her friend's fiancé is not a killer—before the ceremony turns into a jailhouse wedding…
Purchase a copy at these retailers: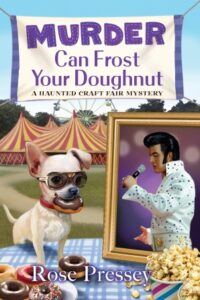 Murder Can Frost Your Doughnut — A Haunted Craft Fair Mystery #4
by Rose Pressey
The ghost of an Elvis impersonator has got psychic painter Celeste Cabot all shook up...
Celeste has pulled up in her pink Shasta trailer, aka mobile art studio, to the Sevier County Fair in the mountains of eastern Tennessee to sell her paintings. A highlight of the fair promises to be the celebrity impersonation contest. But the low point is when Celeste and her floppy-eared white Chihuahua Van (short for Van Gogh) find an Elvis impersonator in his trailer doing a great impression of a corpse, clutching a doughnut in his hand.
Seeking a vision to solve the crime, Celeste paints her own Elvis portrait—and suddenly the ghost of the Elvis impersonator appears. They say fools rush in, but with the help of this spirit, Celeste sets out to find the real killer among all the fake celebrities. It's now or never, because there won't be time to tell the killer: "Don't be cruel."
Purchase a copy at these retailers: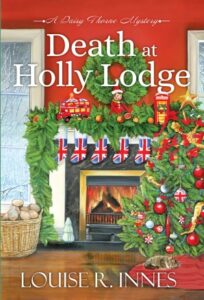 Death at Holly Lodge — A Daisy Thorne Mystery #3
by Louise R. Innes
T'was the weeks before Christmas,
and Daisy nabs a new case,
when a missing man is found
stuffed above a fireplace…
Ooh La La hair salon owner Daisy Thorne adores the Christmas cheer in her picturesque hometown of Edgemead, England. Excitement is extra high this year, as international pop star, Mimi Levanté , the village's newest resident, begins renovating historic Holly Lodge. But the charming country home's makeover is cut short by a shocking discovery—the body of a man, dressed as Santa Claus, jammed inside the house's chimney!
The secreted Santa is identified as Gregory Pearce, a local father who vanished on Christmas Eve two years ago. As the case moves from missing to murder, Daisy and dashing DCI Paul McGuinness begin combing through the clues of Christmases past. But the killer will go to great lengths to keep old crimes under wraps. Now, DCI McGuinness must protect Daisy as she tries to untangle the mystery before a merry murderer embarks on another slay ride.
You can purchase a copy at these retailers: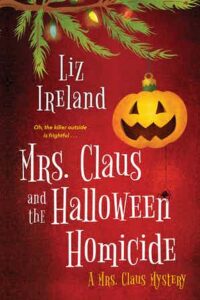 Mrs. Claus and the Halloween Homicide
by Liz Ireland
Mrs. Claus is the gift that keeps giving in the second installment of Liz Ireland's newest cozy mystery series starring April Claus, the newlywed wife of Nick Claus, a.k.a. Santa, as Halloween comes to the North Pole.

April Claus knows being married to the real Santa makes every day feel like Christmas. But when a different holiday arrives at the North Pole, so does murder…
For the first time ever, Christmastown is celebrating a strange new tradition—Halloween. But not everyone is willing to watch their dependable winter wonderland get overrun by carved pumpkins and costume parties. As a series of scary happenings hit Santaland, each one more intense than the last, April realizes having a role in the festivities could cost her family, friends—even her own life.
April isn't the only unlucky target. Outspoken elf Tiny Sparkletoe is found dead in the snow outside his cottage, crushed in the middle of what appears to be a monstrous footprint. With mayhem descending like reindeer on rooftops, April must stop the Halloween killer before the fate of Mrs. Claus becomes another creepy tale to tell in the dark…
You can purchase a copy at these retailers: