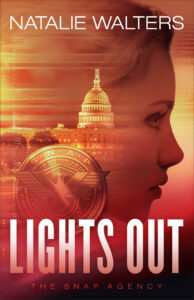 Lights Out by Natalie Walters
ISBN 9780800739782; Ebook ISBN 9781493432004; November 2, 2021; Paper; $15.99; The SNAP Agency, #1 of 3
To fight the global war on terrorism, CIA Analyst Brynn Taylor invited foreign spies into America. Now one of them is missing. To track him down and stop a cyber blackout, she must work with an elite security team—and the ex-boyfriend she betrayed.
The Fate of the World Hangs in the Balance in Book One of The SNAP Agency Series
"Its fast and entwined plot lines, exciting twists, and electrifying conclusion will appeal to fans of suspenseful inspirational romances."
—Booklist on Deadly Deceit
Ada, Mi.—Natalie Walters's debut novel, Living Lies, released in May 2019, followed by two more books in the Harbored Secrets series, Deadly Deceit (November 2019) and Silent Shadows (March 2020). Now Walters returns with another electrifying thriller that combines romance and intrigue in a global plotline in Lights Out, book one in The SNAP Agency series.
CIA analyst Brynn Taylor developed a new program to combat terrorism, and she invited members of foreign intelligence agencies to America to foster cooperation between countries. Now one of them, Egyptian spy Remon Riad, is missing. She is forced to team up with an elite security team, the Strategic Neutralization and Protection Agency (SNAP), to find the missing spy. The only problem—she must work with her ex-boyfriend, Jack Hudson.
Jack has been working for SNAP for almost nine years and takes the lead in hunting down the missing spy. But he never imagined he'd be working with the woman who betrayed him.
Every lead they follow draws them dangerously deeper into an international plot. Kidnapping, murder, explosions, poisoning—the terrorists will do anything to accomplish their goal of causing a digital blackout that will blind a strategic US military communications center and throw the world into chaos.
Can Brynn surrender control to a man who doesn't trust her? And is Jack willing to risk his heart to hunt down the only person who can stop the global terrorist attack?
Interview with Natalie Walters
Can you briefly describe your new novel, Lights Out?
Lights Out kicks off my new series introducing readers to a team of elite characters who work for a private security agency. The Strategic Neutralization and Protection Agency's mission is to take care of potential threats before they become an issue. So when an Egyptian spy disappears under the CIA's watch, they know time is critical to find him, find out what he's doing, and if necessary—take appropriate action to stop him. Jack Hudson is the team leader on this assignment and finds himself face-to-face with the woman who betrayed him, Brynn Taylor, the very CIA officer responsible for their current situation. With global implications, Brynn and Jack don't have any time to waste hashing out their pasts if they want to stop a terrorist. But if they can't trust each other, the terrorist is already one step ahead.
Lights Out is the first book in The SNAP Agency series. How will the books in this series be connected?
The series is connected through the SNAP Agency and its team members. In Lights Out, readers are introduced into Jack Hudson, but they'll also get to know the rest of the members of the SNAP team, who'll have their own moment to shine in the books to come!
What does the SNAP Agency refer to?
SNAP Agency refers to the Strategic Neutralization and Protection Agency. A private agency hired by individuals, corporations, or governments to take care of issues before they become an issue. The agency's team consists of elite members from various backgrounds who all bring expertise to get the job done. Because this agency is private, they have a bit more flexibility when it comes to typical red-tape issues other government agencies face.
Lights Out offers an intriguing global plotline. What was the inspiration behind your plot?
A friend of ours, who works for another agency, once told me a story about how his agency had members of a foreign country come over for training. One night, one of those foreigners went missing. He was later found, but it took a few days to locate him and I thought, What if… What if that man had an ulterior motive? What if he planned to come to America under the guise of training, only to slip away and become the catalyst of a terroristic attack?
Your novel features a CIA analyst, foreign spies, and a cyber blackout threat. What type of research was required to pull all these elements together to create an intense thriller?
In 2010, I had the opportunity to live in Egypt with my husband, who served in a diplomatic capacity through the military. I learned a great deal about not only the culture but also the political climate within the country and between Egypt and the US. Most of what's in the story regarding Egypt comes from my experience there.
Your female protagonist, Brynn Taylor, is a CIA analyst who is used to being in control of a situation. However, she learns she must release control and learn to trust. What can we learn from her example?
Control often equates to a lack of trust and self-reliance. Brynn clings to the perception of control because she believes it will keep her from getting hurt and that she can somehow circumvent problems. But that only leads to a false sense of security. Releasing control, like Brynn has to, means she must trust God to come through for her as he promises and that those promises may not always look like what we expect or want them to, but they're always better than what we could ever work out for ourselves.
Your two main characters, Brynn Taylor and Jack Hudson, share a past. Can you give readers a hint of their backstory?
Brynn began a career in the CIA as an analyst, but she wanted more. The CIA's director of operations handles clandestine operations all over the world. In order to be selected, all candidates attend Camp Peary (aka the Farm), where they undergo vigorous physical and mental training. Not everyone passes. Jack and Brynn both happen to be in the same class, and as the staff continue to break down the candidates, it doesn't take long for Jack and Brynn to form a bond of survival. Committed to help each other pass, Jack and Brynn trust the other to have their back. Their common goal to survive the Farm begins to shift with growing feelings—feelings that have put a target on both of them. In a final test, the agency pushes them to the breaking point, forcing them to remember that in the agency, mission always comes first.
Can you explain how your background has contributed to your writing?
I'm a reader first. I love stories and have been reading since I was a little girl, and I think there's a part of every story that stays with you after the final page. I think that has contributed greatly to me as a writer. Being a military wife, traveling the world, and forming friendships with people from government and federal agencies and various areas of law enforcement have fed into some area of my storytelling. Those experiences give me and my stories a unique vantage point that I love sharing with readers.
What are you working on next?
I'm wrapping up book 2 in The SNAP Agency series. It's untitled as of yet, but it's Kekoa Young's story. He's my mighty Hawaiian, and I've loved bringing his character to life by adding plenty of character quirks that have developed through my husband (who's Hawaiian) and our Hawaiian ohana. Readers can expect more global intrigue that reaches into America's deadly history.
How can readers connect with you?
I love connecting with readers through my social media pages:
Facebook – https://www.facebook.com/profile.php?id=100041917969557
Instagram – https://www.instagram.com/nataliewalters_writer/
Twitter – https://twitter.com/natwalterswrite
The best place to stay caught up with my books and what's coming next is through my newsletter. Sign up through my website www.nataliewalterswriter.com.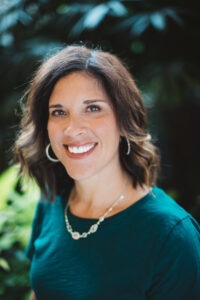 Natalie Walters is the author of Carol Award finalist Living Lies, as well as Deadly Deceit and Silent Shadows. A military wife, she currently resides in Hawaii with her soldier husband and is a proud mom of three adult kiddos. She has been published in Proverbs 31 magazine and has blogged for Guideposts online. She loves connecting on social media, sharing her love of books, cooking, and traveling. Natalie comes from a long line of military and law enforcement veterans and is passionate about supporting them through volunteer work, races, and writing stories that affirm no one is defined by their past. Learn more at www.nataliewalterswriter.com.
Lights Out
by Natalie Walters ISBN: 9780800739782 | Ebook ISBN: 9781493432004 | 320 pages, paperback | $15.99 | November 2021