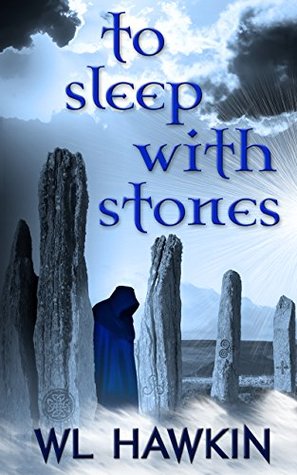 To Sleep with Stones (A Hollystone Mystery #2) by W.L. Hawkin
'Awakened, the summer god within his soul was desperate to dance.'
Canadian author WL Hawkin earned her degree in Indigenous Studies from Trent University, Ontario, and in the Art and Humanities from Simon Fraser University, British Columbia. She has taught high school, published poetry and Native rights articles, is a book reviewer and a published blogger. Her novels to date – the Hollystone Mysteries: TO CHARM A KILLER, TO SLEEP WITH STONES, TO RENDER A RAVEN and TO KILL A KING. She lives in British Columbia.
The author's interest in prehistory, archeology, myths and magic is evident in her Hollystone mysteries – Hollystone is the name of a coven of witches who use their wits and ritual magic to solve murders! Adding time travel to her prehistoric thrillers creates a series with a flight of fancy built so solidly that the odysseys related become credible adventures. She graciously supplies a pronunciation guide of terms and places to enhance the readers' experience.
Having established a fine set of character and locales in the initial volume, Hawkin sets this story in flight with moody Summer Solstice: 'Sorcha found it in the mud. A green-tinged, tangled mess. Pried it from beneath a thin flat stone with tenderness and a trowel while Dylan watched, so entranced he couldn't breathe. When she popped the tool back in the faded caddy tied at her waist, he inhaled at last. Peeling off one glove and then the other, she let them fall. As Sorcha cradled the object in her palm, her green eyes flickered as if it were speaking to her, and Dylan's mind flared again. Did Sorcha share his gift? When he touched a stone it revealed its secrets. Perhaps, Sorcha had a talent for psychometry?…' Imagery and tone established, the odyssey begins.
The provided summary outlines the story well: " When a renegade archaeologist discovers an ancient Egyptian artifact in Scotland, Dylan McBride's world implodes. Imprisoned for murder, he summons his friend, the Wicca Priest, Estrada, to solve the crime and set him free. Unable to turn down Dylan's cry for help, Estrada abandons his melancholy lover in Canada where he gets targeted by a vicious vampire. Estrada faces his inner demons. After playing vampire for years, Michael Stryker confronts a real vampire in a life-changing showdown. And, sweet, virginal, Dylan McBride, faces his greatest fears in one of Scotland's most terrifying prisons. Who will survive?'
This is another sparkling and successful journey in reading that brings involving pleasure to all readers – not just for Hawkin's many established fans! Highly recommended.