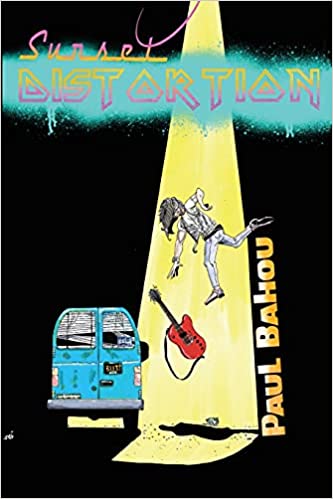 SUNSET DISTORTION: THE PYRAMID AT THE END OF THE WORLD
'Living in this neon fishbowl called life' – Meet Lazer!
California author Paul Bahou earned his degree in political science and government at California State University, Long Beach and is the President of Global Plastics Recycling. He has also had experience as a bassist/vocalist/guitarist in a rock band, and in addition to writing fiction novels, he also writes music. SUNSET DISTORTION: THE PYRAMID AT THE END OF THE WORLD is his debut novel, the first installment in his planned five novel series, SUNSET DISTORTION. As Paul has said in an interview, the story 'follows thrash metal guitarist Laser on his odyssey through space. It's a story about aliens, rock n roll, and our collective need to belong.'
Combining his myriad talents into novel format, Paul Bahou makes a strong impression with his natural gift for creating a 'space opera' grounded in rock n roll and the millennial mindset. Hs gift for creating atmosphere is present as he opens this volume – 'The air-conditioned oasis of Love one the Rocks was a world away for the late-August swelter suffered by those just outside the bar's black vinyl door. For an aging watering hole in West Hollywood, that was all it really needed to be: cold, dark, and open for business. Sure, like more that a few of the Rock's regulars, this place peaked in the late '80s. Yet despite the fading fluorescent beer logos flickering on the walls scuffed and stained concrete floors, and bathrooms that looked grimy even after being cleaned, it had its charms…'
In this atmosphere we meet Georgios Hassan aka Lazer and the plot summary outlines the saga – 'Lazer is an almost made it, middle-aged guitarist who plays in an 80's hard rock cover band at a Sunset Strip dive bar. While not quite a rock star, he plays to a packed house nightly. His blissful inertia is disrupted one night however when he is abducted by aliens and given a strange imprint on his hand: A key which will send him on an intergalactic journey in search of an artifact that gives its possessor "infinite life." With the help of his new friend Streek; A timid floating octopus-creature with an English accent, Lazer will have to survive encounters with monsters, robots, alien pirates, inter-dimensional brain leeches and much more. Will Lazer get back home? What does 'infinite life' actually mean? And why does everybody in space speak English? All answers await at the pyramid at the end of the world.'
Written with sparkle and imagination and wit and insight, this novel works very well indeed, promising the beginning of a much-anticipated complete series, while providing a nod to a fresh new author in Paul Bahou. Heads up for a fine new talent! Recommended.