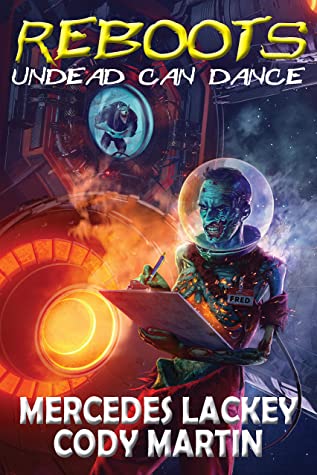 Reboots: Undead Can Dance by Mercedes Lackey & Cody Martin
An oddball crew of paranormal creatures face their own strange issues and the threats of space as they travel together in this space opera paranormal sci-fi read, "Reboots: Undead Can Dance" by Mercedes Lackey & Cody Martin.
The Synopsis
Say hello to Humph the Boggart, the principled, down-on-his-luck private detective, Skinny Jim the zombie, and Fred the werewolf, in this film noir-style space opera.
Humans aren't alone anymore—in fact, they share a planet with undead and near-dead beings, living in…semi-harmony, depending on who you ask!
This is the world of Reboots—where zombies, vampires, and werewolves live side-by-side with humans, taking whatever jobs they can in order to coexist peacefully. So, what better job to give almost-dead or dead beings, than one that consists of no air, cosmic radiation, and a lack of life-sustaining essentials?
In comes a cast of interesting, unique, and downright paranormal creatures as they travel through space.
Consisting of four parts, Reboots: Undead Can Dance is a space opera destined to become a favorite, written by beloved and world-renowned fantasy author, Mercedes Lackey, and Cody Martin.
Follow Skinny Jim, a zombie who conceals his ability to speak to avoid being exterminated after an ill-fated war launched by a zombie emperor, leading to an alliance between Norms, the Fangs, and the Furs. And then there's Humph the Boggart, an ethereal parahuman private investigator who navigates interspecies relationships in claustrophobic extraterrestrial environments with his friends, including Fred the werewolf.
And what happens when you put them all together in a confined space?
Lackey and Martin have created a perfect, witty, fast-paced read that you won't be able to put down, and will leave you craving more.
The Review
This was brilliant, humorous, and the vastly expansive world the authors have crafted. The characters were so unique and captivating to read, as their own unique backstories and connection to the paranormal world made their interactions and developing relationships with one another feel vibrant and captivating.
What truly captured my attention though was the world-building and mythos that the authors developed in the narrative. Early on in the story, the authors begin to delve into this vast universe of paranormal uniqueness, from corporations run by the humans or the "Norms", to the way the characters allude to a zombie war years before that left zombies forced to hide if they gained intelligence, to the increased power a werewolf gains if exposed to more than one moon.
 Each story and chapter only served to ignite more and more world-building, which also greatly impacted the growing narrative surrounding this truly oddball detective agency that turned the plot into a full-blown noir thriller. The genre-melding that happened in this story was truly mind-blowing, and yet kept me so enraptured with the narrative that I was on the edge of my seat the entire time.
The Verdict
A memorable, fun, and exhilarating paranormal sci-fi thriller, authors Mercedes Lackey and Cody Martin's "Reboots: Undead Can Dance" is a must-read book this fall and winter. The humor and wit that the characters showed balanced out the greater mythos of the paranormal world and the space exploration that they delved into, making this a truly exciting book that I can't wait to dive back into again. If you haven't yet, be sure to grab your copy on November 30th, 2021!
Rating: 10/10
Reviewed by Anthony Avian Reviews.