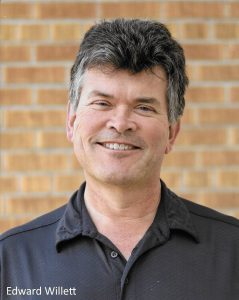 Shaping Worlds One Story at a Time with Author Edward Willett on Book Lights
Edward Willett is an award-winning author of more than sixty books science fiction, fantasy and non-fiction for both children and adults. He's also host of the Aurora Award-winning podcast The Worldshapers: "Conversations with science fiction and fantasy authors about the creative process." (http://www.theworldshapers.com). He successfully Kickstarted and edited a new anthology, Shapers of Worlds, featuring authors who were guests during the first year of the podcast.
Besides being a writer, Willett is a professional actor and singer who has performed in dozens of plays, musicals and operas in and around Saskatchewan, hosted local television programs, and emceed numerous public events.
He's married to a telecommunications engineer and has one daughter and a black Siberian cat named Shadowpaw. You can find out more about him at: https://edwardwillett.com/
And for more about our host Lisa Kessler visit http://Lisa-Kessler.com
Book Lights – shining a light on good books!
Here's a look at SHAPERS OF WORLDS: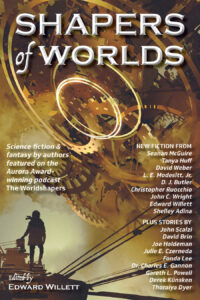 Within these pages lie eighteen stories, from eighteen worlds shaped by some of today's best writers of science fiction and fantasy, all guests on the Aurora Award-winning podcast The Worldshapers during its first year. Some are international bestsellers. Among them are winners of and nominees for the Hugo, Nebula, World Fantasy, Aurora, Sunburst, Aurealis, Ditmar, British Science Fiction Association, and Dragon Awards. Some have been writing for decades, others are at the beginning of their careers. All have honed their craft to razor-sharpness.