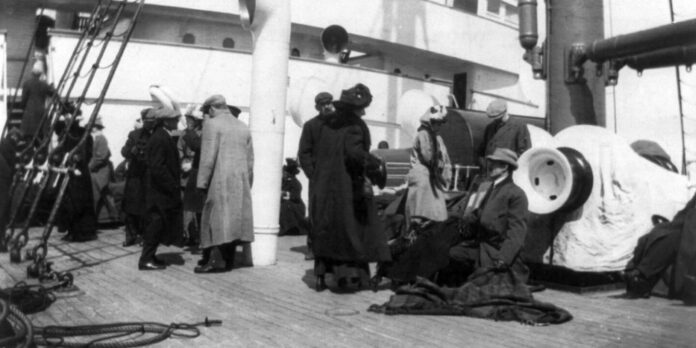 Some of the Real Historical Figures Found in the Book by Shana Abé
Margaret Brown
You probably know her as someone historically referred to as unsinkable, but she never went by "Molly" in her lifetime. She was Margaret: intelligent, compassionate, and well-educated despite her rough-and-tumble background. (I heard that the writers of the musical decided to call her Molly instead of Margaret because they thought it would be easier to sing, but I have no idea if that's true.) Margaret was real-life friends with the Astors, and she and her daughter really did travel with them to Egypt in the early months of 1912. The Astors and the Browns went their separate ways at the end of the tour in April. It was sheer luck (good? bad?) that Jack, Madeleine and Margaret met again aboard the Titanic. Margaret was rushing home to see her ill grandson; she had booked her cabin at the last minute.
Charlotte Cardeza
Cantankerous heiress, socialite and bully. In all my research, I never read a single nice thing about her. She declared she'd lost close to five million dollars' worth (in today's money) of clothing and jewels in her compensation claim to the White Star Line, and she did not get that money back.
All the Fortune Family
Whether the prophetic soothsayer incident really happened or not, Alice Fortune's story about the Egyptian man warning her not to travel by ocean was one she repeated to several people aboard Titanic. Alice, her mother, and sisters survived the sinking. Her father and brother, unfortunately, did not.
Helen Bishop and her dog, Frou Frou
Helen, a young newlywed like Madeleine, claimed post-Titanic to have shared a great, great friendship with the Astors while aboard the ship. (Helen was, in fact, one of the few women called to testify for the U.S. Senate inquiry into the disaster, and her account of the final few hours aboard the ship—when she was briefly with the Astors in the first-class lounge—is available to read online.) Helen and her husband survived the sinking due to her rather dubious claim that a crewman manning the lifeboats shouted for "brides and grooms" to board (as opposed to "women and children").
Here's why I took everything Helen said with a grain of salt:
She was nowhere near the social stature of the Astors, or even from their part of the country. It is unlikely they'd ever met before.
No one else heard any of the crew calling for "brides and grooms" to board the lifeboats. Later on, Helen changed her story, saying instead that a crewman had grabbed her and forced her and her husband into a boat.
Most damningly, as far as I'm concerned: she deliberately left her dog locked in her cabin to die as Titanic was foundering. Not in a panic, but coolly and deliberately; she knew the ship was going to sink and didn't want to be bothered with her pet. She literally closed the door on her tiny dog frantically trying to join her. Jack and Madeleine adored their dog. I can't imagine they would be friends with someone like that.
Kitty
Oh, Kitty. She was with Jack and Madeleine in nearly every photo I found of them together, right at their sides. A very good girl.
And the most famous person who was not aboard Titanic, but is still mentioned in the book:
J. Pierpont Morgan
White Star Line's (kind of/it's complicated) owner, who originally planned to return home from his own winter in Egypt on board his new ship's maiden voyage (booking for himself one of the liner's two deluxe promenade suites), but who subsequently put off his return in order to spend a bit more time with his mistress in France. Bruce Ismay took his suite instead.
---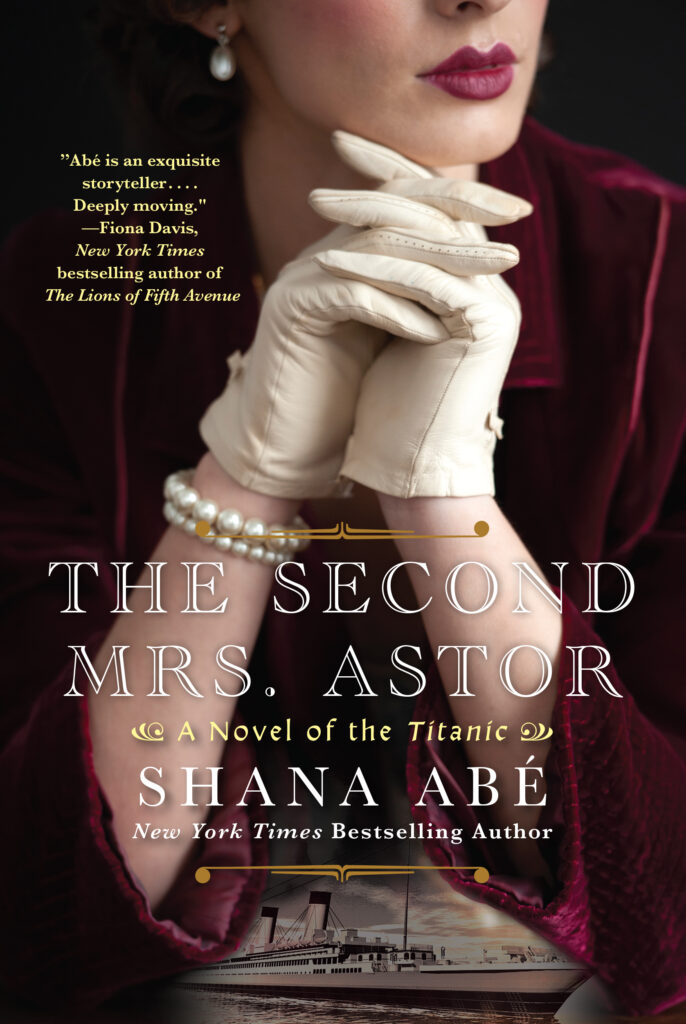 Inspired by the real-life Titanic love story between America's richest man and teenaged beauty Madeleine Force.
He was American royalty, the richest man in the country and Fifth Avenue scion of the Gilded Age. She was a vivacious teenage socialite suddenly and unexpectedly thrust into fame simply for falling in love with a famous man nearly three decades her senior. Brought to life in this sweeping work of historical fiction by New York Times and USA Today bestselling novelist Shana Abé, the love story between Jack Astor and Madeline Force, from scandalous courtship to tragic honeymoon aboard the Titanic, which made them the most famous couple of their time…
A mesmerizing novel of historical fiction from New York Times bestselling author Shana Abé, The Second Mrs. Astor tells the sweeping real-life Titanic love story of Madeleine Force, who became the teenaged bride of one of the world's richest men, and triumphed over tragedy and heartache.
"I won't begin with our ending, which everyone in the world knows anyway. Our beginning, however, belonged only to us…"
Madeleine Talmage Force is just seventeen when she attracts the attention of John Jacob "Jack" Astor. Madeleine is beautiful, intelligent, and solidly upper-class, but the Astors are in a league apart. Jack's mother was the Mrs. Astor, American royalty and New York's most formidable socialite. Jack is dashing and industrious–a hero of the Spanish-American war, an inventor, and a canny businessman. Despite their twenty-nine-year age difference, and the scandal of Jack's recent divorce, Madeleine falls headlong into love–and becomes the press's favorite target.
On their extended honeymoon in Egypt, the newlyweds finally find a measure of peace from photographers and journalists. Madeleine feels truly alive for the first time–and is happily pregnant. The couple plans to return home in the spring of 1912, aboard an opulent new ocean liner. When the ship hits an iceberg close to midnight on April 14th, there is no immediate panic. The swift, state-of-the-art RMS Titanic seems unsinkable. As Jack helps Madeleine into a lifeboat, he assures her that he'll see her soon in New York…
Four months later, at the Astors' Fifth Avenue mansion, a widowed Madeleine gives birth to their son. In the wake of the disaster, the press has elevated her to the status of virtuous, tragic heroine. But Madeleine's most important decision still lies ahead: whether to accept the role assigned to her, or carve out her own remarkable path.
(Reprinted with permission from Kensington Books)