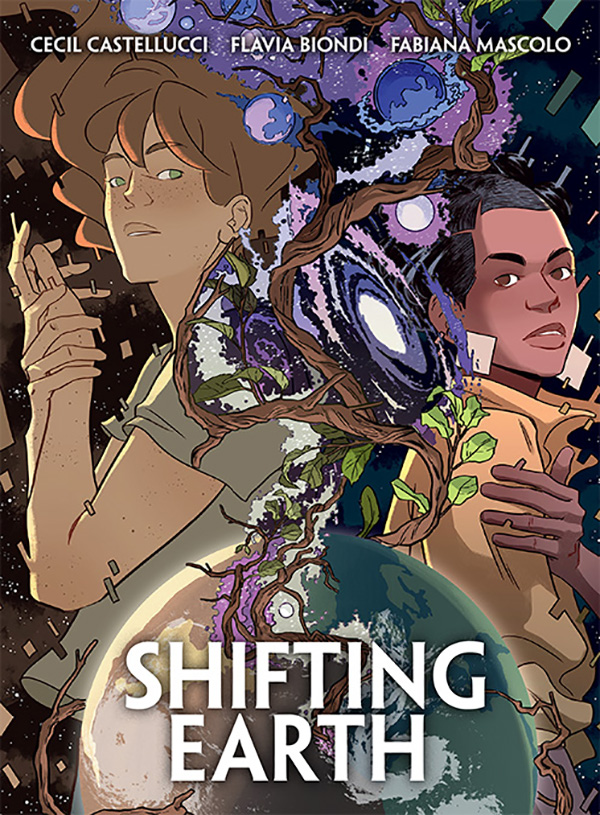 Thought-Provoking Cli-Fi Meets Fantastical Mystery
New York Times Bestselling Author Cecil Castellucci, artist Flavia Biondi, colorist Fabiana Mascolo, and letterer Steve Wands bring a gripping, scientific fantasy to life in Shifting Earth, an original graphic novel from Berger Books/Dark Horse Comics.
In a not-so-distant future, a freak particle storm has landed botanist Dr. Maeve Lindholm on an idyllic yet strange parallel Earth, with no way back home. Here, two moons rule society, and nature outshines science. Yet, all isn't what it seems as this Eden-like existence is on the brink of unthinkable change. Astronomer Zuzi battles this fractious society every day—just like Maeve did on her own climate-ravaged planet. Both women are fighters, and both face a choice: forge new paths, or save the worlds they've always known? Maeve will have to decide, and fast– because she's fighting for more than just herself.
"I spent a lot of time during the pandemic scrapping seeds from my kitchen, worrying about climate change, and listening to a lot of science lectures," said Cecil Castellucci. "But I didn't want Shifting Earth to be doom and gloom, because I think that there are ways for us to imagine hopeful futures. We have to fight for our world, right here. This is my attempt to balance both the nature of the human heart and the reality of our times with a hope for a true exchange of ideas."
"Cecil has crafted an imaginative and important story that flips our current world on its axis and transports us to a place both of Earthly wonder and incredible weirdness," said Karen Berger. "Flavia's art is truly breathtaking, as is Fabiana's glorious color— the perfect art team for this rich and powerful graphic novel."
Shifting Earth OGN will be in comic shops June 8, 2022 and in bookstores June 21, 2022. It is available for pre-order on Amazon, Barnes & Noble, and at your local comic shop and bookstore and will retail for $19.99.
Be sure to complete the ongoing Berger Books collection with new titles such as Rewild, She Could Fly Vol 3, Enigma: The Definitive Edition, and LaGuardia: Deluxe Hardcover Edition.