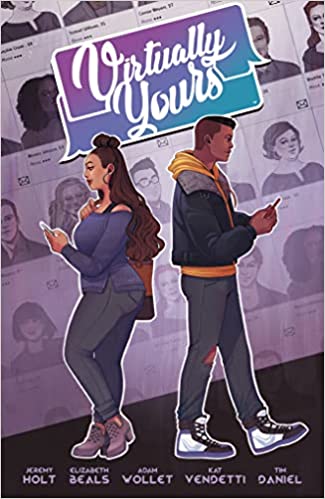 DARK HORSE BOOKS TO PUBLISH VIRTUALLY YOURS
Virtually Yours, An Original Graphic Novel About Dating in the 21st Century, Written by Jeremy Holt with art by Elizabeth Beals, in Print September 2022
Dark Horse, the legendary comic book publisher of titles including
 Black Hammer, Hellboy, Sin City 
and 
The Umbrella Academy
 will publish 
Virtually Yours
, the original graphic novel about dating in the 21st Century in print for the first time in September 2022.
"We all know dating nowadays can be a complete and total sh*tshow, and with the current state of the world and most people being under lockdown and in social isolation, it's even harder to try to connect with someone online. Virtually Yours, from writer Jeremy Holt and artist Elizabeth Beals knows this struggle all too well. But unlike other romantic-comedies, Virtually Yours features a diverse cast of characters of all shapes, sizes, races, and sexualities coming together to navigate the messy and complicated world of online dating." –
PRIDE.com
"Jeremy has a rare and impressive ability to shift between styles of writing, and the tone of this book really caught me off guard in such a great way. Highly recommend." –Landry Q. Walker, House of Odd, Little Gloomy
"Virtually Yours proves that comics can tell stories that don't rely on shock and violence. Holt and Beals have created something wholly unique that stands as a testament of the mediums ability to capture humanity in a way the few others can. Masterfully done." –Michael Conrad, Tremor Dose
"I READ IT ALL IN ONE SITTING! It's SO good, folks, you have to read it!" –Joe Glass, The Pride
"A compelling work that plays with tropes—and the medium—in unexpected ways. Jeremy's been one of my favorite writers for a while. Recommended." –Eric Palicki, Black Myth, All We Ever Wanted
In Virtually Yours, career-minded Eva Estrella is tired of her family asking when she's going to settle down. Why won't they stop nagging her? New York City is a big place! Sure it's easy to meet people, but you try finding "the one" in a city of 8 million! Besides, Eva doesn't want a distraction from her goal of finding a dream job in journalism. So Eva joins Virtually Yours, a virtual dating app that provides all the proof of being in a relationship — without actually being in one.
And then there's Max Kittridge. He might be a former child star, but right now he's in the middle of a divorce and going through the motions. Max takes a gig at Virtually Yours creating, what becomes, a highly sought-after profile, making him a top performer at the company. As they navigate their current circumstances, both Eva and Max find that sometimes what you're looking for is right in front of you.
About the Writer: Jeremy Holt is a Brooklyn-based non-binary author whose most recent works include Made in Korea, Before Houdini, and Skip to the End. They have received high praise from Brian K. Vaughan (Y the Last Man, Saga, Runaways), as well as magician and NYT crossword constructor David Kwong.
About the Artist: Elizabeth Beals is an Atlanta based illustrator best known for her love of detail, geeky pin-ups, and cover work. She graduated from the Savannah College of Art and Design with a BFA in illustration. When not drawing she enjoys baking, wooing the neighborhood cats, and re-reading all her magical girl manga.
Virtually Yours [on sale September 6, 2022 /Dark Horse Books] is the latest release from the Dark Horse Books and comiXology Originals print program. It is available for pre-order now through Amazon and Barnes & Noble and your local comic shop.