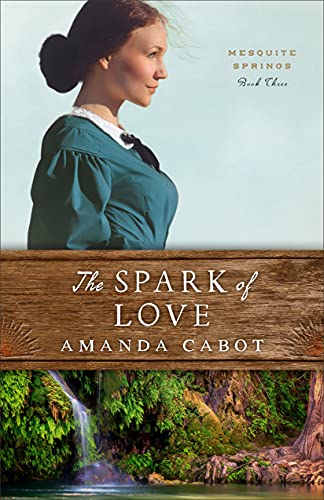 The Timeless Appeal of "Happily Ever After" By Amanda Cabot, Author of The Spark of Love
Do you read romance novels? For as long as I can remember, my favorite stories have been those that ended, "And they lived happily ever after." That's why I read – and write – romances. I'm not alone. Millions of people – yes, millions – read at least one romance a year. That's the reason romance novels have the largest market share of all fiction, ahead of mysteries and thrillers, science fiction, even what's termed "general fiction."
So, what's the appeal? Traditionally, romances have received little respect. To some critics, they're nothing more than cotton candy – sweet, but with no substance. If that were true – and I don't think it is – it's difficult to believe anyone would eat that much cotton candy. I believe the appeal is deeper and more substantial.
Romances celebrate the power of love. And make no mistake, there's a lot of power in love.
My friend and fellow author April Kihlstrom agrees. She says, "The deepest human need is to be loved. The message of romance novels is that one can be true to oneself, really true to oneself, and find love and acceptance. It's about men and women coming together in ways that empower both and diminish neither. It's about exploring ways to do that. It's about love and fidelity and commitment – too rare in our society these days – and it's about empowering women to imagine all the possibilities open to them to live fulfilling lives."
Love fills empty spaces deep inside us. It opens us to new possibilities, new connections. Most of all, it can heal. As I reflect on the books I've written, I realize that although there are many differences among them, they all have the theme of love's healing power. Each of my characters is wounded in some way, but love strengths them and brings them healing. And the best part? It's permanent healing, not a temporary band-aid.
In a world of ambiguities, romances provide certainties for us as readers. One of those is that when we open the book, we'll meet admirable characters. The characters in a romance may be flawed – in fact, they should be flawed, since that makes them human – but they're intrinsically good. They're heroes in the purest sense of the word. This is critical, because romance readers want to identify with the hero or heroine. We want to watch the characters face obstacles, dangers, even life-threatening problems and overcome them. And because we identify with the characters, when they surmount seemingly unsurmountable obstacles, we experience what the Greeks called catharsis, a purification or purging of the emotions. As we watch characters succeed, we're filled with the belief that we too can succeed.
When we pick up a romance, we know that no matter what obstacles the characters face, no matter how dire the situation appears, there will be a happy ending. We may have tears in our eyes when we close the book, but they're happy tears, the result of seeing love conquer everything. The story has touched our hearts, reaffirming the words that Abraham Lincoln had engraved in his wife's wedding band: Love is Eternal.
A romance assures us that good exists in the world, that as two people fall in love, together they can conquer problems that would have been impossible alone. Most of all, it tells us that love endures. That's the power and the appeal of "And they lived happily ever after."
In March 2020, Amanda Cabot introduced readers to the beautiful
Texas Hill Country in Out of the Embers, book 1 in the Mesquite Springs series.
True to form, Cabot expertly blended history, romance, suspense, and an
engaging cast of characters that have woven their way into the hearts of
historical romance fans. Now she returns with the much-anticipated series
conclusion, The Spark of Love.
After a menacing run-in with a would-be beau, Alexandra Tarkington decides to
leave New York for the Texas Hill Country, where her wealthy father is
spearheading a new business venture—a hotel—in Mesquite Springs. Upon her
arrival, however, her father is less than supportive of her presence in town and
her desire to carve out a new place for herself.
Gabe Seymour is also a newcomer to Mesquite Springs, and this common bond leads to a friendship with the young Tarkington heiress, Alexandra. However, things are not as they seem. Gabe is a private investigator determined to unmask a con man . . . Alexandra's father. When a series of accidents threatens Alexandra, she realizes that trouble—and maybe a specific someone—have followed her to Texas. With Gabe's help, the pair will have to work together to discover the truth, but can Gabe come clean about his true purpose before things go too far? Expertly combining suspense with sweet romance, author Amanda Cabot will have readers wanting to pay a personal visit to Mesquite Springs in the satisfying conclusion to the series, The Spark of Love.
ABOUT THE AUTHOR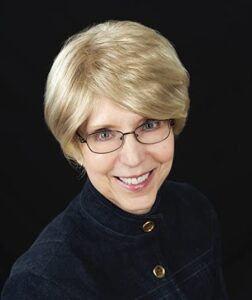 Amanda Cabot is the bestselling author of Out of the Embers and Dreams Rekindled, as well as the Cimarron Creek Trilogy and the Texas Crossroads, Texas Dreams, and Westward Winds series. Her books have been finalists for the ACFW Carol Awards, the HOLT Medallion, and the Booksellers' Best. She lives in Wyoming. Learn more at www.AmandaCabot.com.