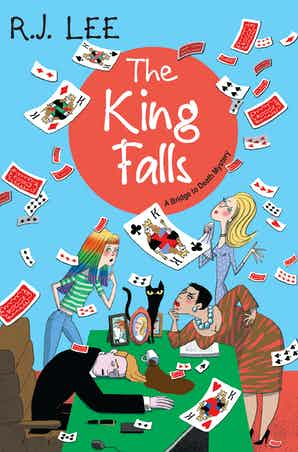 The King Falls — A Bridge to Death Mystery #4
by R.J. Lee
In R.J. Lee's fourth Mississippi-set Bridge to Death Mystery, it's up to newly-married reporter and bridge player Wendy Winchester Rierson to finesse a homicide investigation where the killer holds a master hand…
King Kohl, scion of the Kohl and Son real estate firm, has a reputation for loving three things: the ladies, closing on properties, and playing bridge. Still, when he invites Wendy, the president of the Rosalie, Mississippi, Country Club Bridge Bunch, to a small, exclusive bridge party, her investigative instincts as a reporter for the Rosalie Citizen are on the alert. In fact, King means to use the occasion to make a surprising announcement to his selected guests. But before he can lay his cards on the table, tragedy strikes.
After receiving a mysterious message to hurry to King's home, Wendy almost collides with the man's real-estate rival, running out the front door insisting he found King dead when he arrived. Not just dead, it turns out, but murdered—crowned with one of his own award plaques.
Is the rival as guilty as he looks? Was it a crime of passion by one of Kohl's scorned lovers? With her detective husband Ross and her father Bax Winchester, the chief of police, Wendy is determined to find the offender who dropped the unguarded King…
You can purchase this title at these retailers: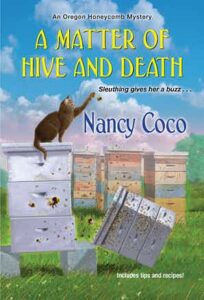 A Matter of Hive and Death — An Oregon Honeycomb Mystery #2
by Nancy Coco
When a bee wrangler is bludgeoned, Let It Bee honey shop owner Wren Johnson makes it her beeswax to solve the crime in Nancy Coco's second Oregon Honeycomb Mystery…

For the picturesque town of Oceanview on the Oregon Coast, May brings blossoming fruit trees and the annual UFO festival. As Aunt Eloise tries out alien costumes on their Havana brown cat Everett, Wren is off to meet with a bee wrangler, her go-to guy for local fruit tree honey.
But when she arrives, Elias Brentwood is lying on the ground amidst destroyed hives and a swarm of angry bees. The bees didn't kill him, a blow to the head did. As blue-eyed Officer Jim Hampton investigates and the town is invaded by its own swarm of conspiracy theorists and crackpots, Wren and Aunt Eloise decide the only way to catch the bee wrangler's killer is to set up a sting…
Purchase at these retailers: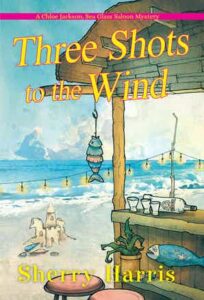 THREE SHOTS TO THE WIND — A Chloe Jackson Sea Glass Saloon Mystery #3
The third installment in Sherry Harris's Agatha Award-nominated series finds former Chicago librarian Chloe Jackson loving her new life as a bartender in Florida…until a surprise visit from her Windy City ex-fiancé ends with him blown away in the Panhandle!

DEAD EXES TELL NO TALES
Saloon owner Chloe Jackson appears to have a secret admirer. She's pouring drinks at the Sea Glass Saloon in Emerald Cove when an airplane flies by above the beach with a banner reading I LOVE YOU CHLOE JACKSON. She immediately rules out Rip Barnett. They are in the early stages of dating and no one has said the L word. Then a bouquet of lilacs—her favorite flower—is delivered to the bar, followed by an expensive bottle of her favorite sparkling wine. It couldn't be…
Sure enough, her ex-fiancé from Chicago has flown down to Florida for an accountants' convention. But is he trying to mix business with pleasure and win her back? Unfortunately he's not in a hotel conference room, he's floating facedown in the lake next to her house, clutching a photo of Chloe. Who murders an accountant on a business trip—it just doesn't add up. When Rip becomes the prime suspect, Chloe is determined to find the secret murderer. But if she isn't careful, it may be closing time and lights out for her…
Purchase at these retailers:
Mining for Murder — A Happy Camper Mystery #3
by Mary Angela
Zo Jones is enjoying the sunny season at her Happy Camper gift shop in Spirit Canyon, South Dakota—when a murder reminds her all that glitters isn't gold . . .

The South Dakota Gold Rush might be long over, but Zo Jones feels like she's hit the mother lode when she and her friends browse an estate sale, where a rare old book about the history of Spirit Canyon is causing quite a commotion. In addition to local stories and secrets, the book may even contain the location of a famous stash of gold—a treasure worth killing for.
Zo's friend Maynard Cline wins the bid on the book, to the chagrin of many interested parties, including the historical society and college history department. But when Zo and Hattie head to Maynard's mansion to borrow the book for a library event, the only thing they find is Maynard—at the bottom of the mountain. The valuable book is gone. Zo knows this must be murder because there's no way a germophobe like Maynard would have voluntarily dived into a pile of dirt. Now she'll have to dig into a new case, and go prospecting for a perpetrator . . .
You can purchase at these retailers: