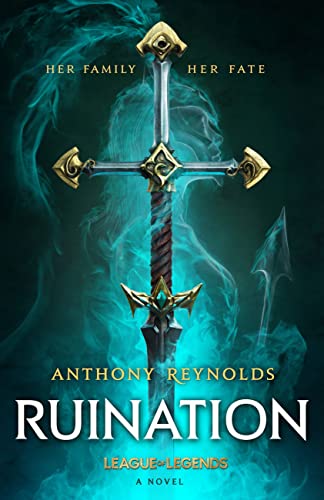 Orbit and Riot Games, the leading video game developer and publisher best known for League of Legends, have signed a major licensing deal to publish the first ever novel set in the League of Legends universe.
The novel, Ruination, written by Anthony Reynolds, Principal Writer at Riot Games, tells the story of Kalista, military general to King Viego, as she searches for a legendary realm that may have access to ancient magic—the only way to cure the poisoned Queen Isolde.
Ruination will be published in English in September 2022 by Orbit teams in the US and UK in print, ebook, and audio editions, and distributed internationally. It is also expected to be translated for all major international markets, with publication dates to be announced in the future.
"Stories play such an important role in exploring our world and champions in deep and meaningful ways," said Ashley Maidy, Head of Consumer Products for Riot Games. "This is a foundational story for Runeterra, and will shed new light on the events that shape some of its most pivotal characters. We are thrilled that Orbit will be bringing this to life for our fans."
Senior Vice President and Publisher of Orbit US, Tim Holman, said of the deal, "We are thrilled to be publishing the first novel set in the League of Legends universe. Our goal is to publish stories that will excite not just the millions of League of Legends players but anyone who loves epic adventures set in fantastical worlds. Working with the Rioters has been an amazing experience, and I believe that together we can build a phenomenal publishing program."
Orbit UK Publisher Anna Jackson said, "League of Legends has taken the world by storm, and we're so excited to be working with the highly innovative team behind this global sensation. The universe they've created is so rich with detail, and we can't wait to help bring it to life in new ways."
Orbit US acquiring editor Bradley Englert said, "I've been playing League of Legends for more than ten years, and I'm beyond thrilled to be able to join Riot in publishing their first novel set within the League universe. The characters are unforgettable, and the depth of the world is immense. As an epic fantasy editor, it's an absolute pleasure to be working with a team like Riot who have a real passion for telling remarkable stories."