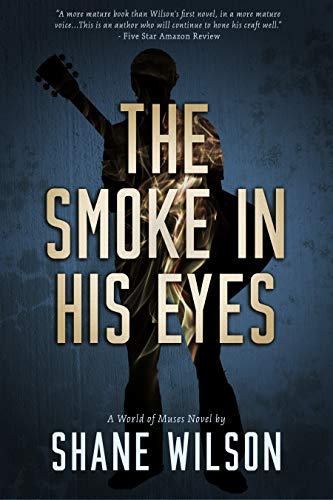 THE SMOKE IN HIS EYES BY SHANE WILSON
AUTHOR AND MUSICIAN, SHANE WILSON WINS TWO BOOK AWARDS FOR HIS CRITICALLY ACCLAIMED NOVEL, THE SMOKE IN HIS EYES
Award-winning author and musician Shane Wilson has won two Awards at the prestigious event, BookFest this past weekend—both were for his journey of music and magic, The Smoke in His Eyes.  The book placed second in Contemporary Fiction and third in Coming-of-Age Literary Fiction. The double win is a first for this up-and-coming author and is the latest highlight in a number of accomplishments including critically acclaimed reviews by Top 100 Amazon Book Reviewer, Grady Harp and critically acclaimed North American reviewer and blogger, Anthony Avina.
The Bookfest Awards honors authors who create outstanding works of fiction and nonfiction. Books are judged in categories based on genre, theme, and aesthetics. Books published in the past five years are eligible. Entries will be vetted by an initial team, then the final places will be determined by an elite team of experts in the literary and entertainment world.
"Skillfully written with a fine sense of cadence, this is an impressive book by an author of authority – a successful entry into the world of magical realism attuned to music!", Grady Harp, Reviewer Top 100 Amazon Reviewer
ABOUT THE AUTHOR:
Shane Wilson is a storyteller. No matter the medium, the emphasis of his work is on the magical act of the story, and how the stories we tell immortalize us and give voice to the abstractions of human experience. His first two contemporary fantasy novels as well as a stage play, set in his World of Muses universe, are currently available.
Born in Alabama and raised in Georgia, Shane is a child of the southeastern United States where he feels simultaneously at-home and out-of-place. He graduated from Valdosta State University in South Georgia with a Masters in English. He taught college English in Georgia for four years before moving to North Carolina in 2013.
Shane plays guitar and writes songs with his two-man-band, Sequoia Rising. He writes songs as he writes stories–with an emphasis on the magic of human experience. He tends to chase the day with a whiskey (Wild Turkey 101) and a re-run of The Office.
Shane's novels are A Year Since the Rain (Snow Leopard Publishing, 2016) and The Smoke in His Eyes (GenZ Publishing, 2018). Shane's short story, "The Boy Who Kissed the Rain" was the 2017 Rilla Askew Short Fiction Prize winner and was nominated for a 2018 Pushcart Prize. An adaptation of that story for the stage was selected for the Independence Theater Reading Series in Fayetteville, NC. More information about Shane can be found at: Shane Wilson Author