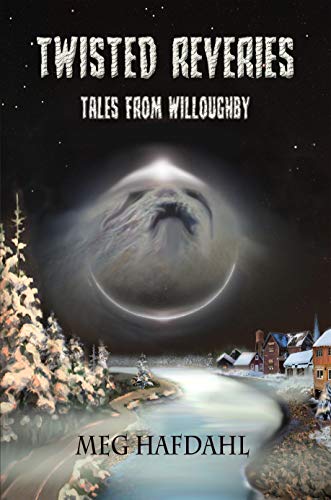 Twisted Reveries II By Meg Hafdahl
Minnesota author Meg Hafdahl writes horror and suspense stories that have been included in anthologies as well as her own short story collections, novels, and series – The Willoughby Chronicles (three volumes) and Twisted Reveries – three volumes, of which this book is the second volume. She has also co-authored The Science of Monsters, The Science of Women in Horror, The Science of Stephen King, and The Science of Serial Killers. Meg is the co-host of the podcast Horror Rewind.
Meg opens this collection of stories from mid-western town of Willoughby 'where forgetting is a way of life' with a series of excellent, atmospheric pen and ink drawings of the town
Capitalizing on the current advances in feminine impact (#HerToo, #HerStory, #MeToo, etc), Meg's stories are driven by strong women leads. Her prose is elegant and able to draw the reader into the thirteen suspense-filled, terrifying tales. An example from the final story – WILLOUGHBY – validates her stature as a writer: 'Inside Willoughby grocery you will find everything you might need of a quick stop. You can purchase three flavors of spaghetti sauce and mint ice cream with little chocolate cows mixed inside. You'll find batteries and whipped cream in a can, and you can even pick up Sudoku books and gum at the checkout. But everyone in Willoughby, Minnesota, knows not to shop here for more than a bag full. Instead they get the kids strapped into the car, iPads in hand, and drive the thirty-five minutes to the Fergus Falls Super Foods. Willoughby Grocery is simply for the times you forgot olives or the bread, or you couldn't wait another minute for a candy bar. Amanda knew that her family's store was an in-between; an over-priced convenience, a stop for either the forgetful or the lazy. She quite liked it this way, because it meant her nights at work were spent reading and dreaming.' With that setting the stage for horror to come is set.
That is but one of the thirteen throbbing, pulsating tales that fill this fine collection. Meg Hafdahl has mastered the horror/macabre genre. She is most assuredly an artist of importance. Highly recommended. Grady Harp Review.