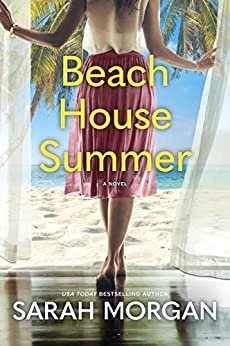 BEACH HOUSE SUMMER BY SARAH MORGAN
USA Today bestselling author Sarah Morgan returns with the ultimate beach read, as one woman forges the most unlikely friendship of all, and embarks on a summer of confronting her past in order to build the future she wants…
When Joanna Whitman's ex-husband, one of California's most beloved celebrity chefs, dies in a car accident, she doesn't know what to feel. Their dysfunctional marriage held more secrets than she cares to remember, but when she discovers a young woman was with him in the crash–who's now in hospital, on her own, and pregnant —Joanna sees red. How dare he ruin yet another woman's life? More than anyone, Joanna knows the brutal spotlight this girl is going to find herself in…unless she can find a way for them both to disappear?
Ashley can't believe it when Joanna shows up in her hospital room and offers to spirit them both away for the summer to her secluded beach house on the Californian coast. Joanna should be hating her, not helping her. But orphaned and pregnant, Ashley can't turn Joanna down. Even though she knows that if Joanna ever discovers the real truth of why Ashley was in her ex's car, their tentative bond would never hold.
Together, they escape to the beach house, nestled high above the sleepy Californian town where Joanna grew up, and left without a backward glance. Joanna's only goal for the summer is privacy, but her return creates waves in the community, not least for the best friend she left behind. Both Joanna and Ashley are hiding secrets, but as they fall under the spell of their summer home – and draw on each other's courage – these unlikely friends realise that to seize the futures they want, they must step out of the shadows and into the sunshine.