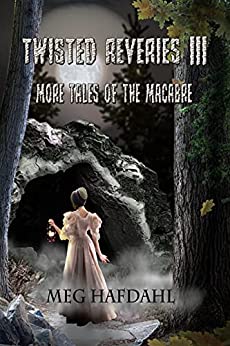 Twisted Reveries Book Three By Meg Hafdahl
Thirteen more chilling stories of gothic Macabre
by Bram Stoker Nominee, Meg Hafdahl
In Twisted Reveries 3, Bram Stoker Award nominated horror author Meg Hafdahl continues her twisted tradition of female-driven tales with a razor-sharp bite. This third collection is steeped in the gothic and antique terrors of years past. Among an intriguing cast of characters, we meet a suffragette who has a sudden brush with telepathy; a deaf widow haunted by her own, devious past; and a young girl fixated on vanquishing the monster who killed her.
Travel into bygone eras and experience thirteen chilling stories that will undoubtedly make you question the shadowed, terrifying memories of the past.
Amazon.com Link: Twisted Reveries III: More Tales of the Macabre – Kindle edition by Hafdahl, Meg. Literature & Fiction Kindle eBooks @ Amazon.com.
Amazon.ca:  Twisted Reveries III: More Tales of the Macabre eBook : Hafdahl, Meg: Amazon.ca: Kindle Store
ABOUT THE AUTHOR: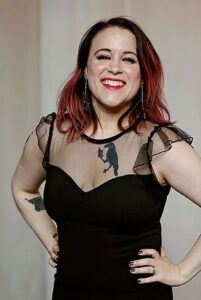 Horror and suspense author Meg Hafdahl is the creator of numerous stories and books. Her fiction has appeared in anthologies such as Eve's Requiem: Tales of Women, Mystery and Horror and Eclectically Criminal. Her work has been produced for audio by The Wicked Library and The Lift, and she is the author of two popular short story collections including Twisted Reveries: Thirteen Tales of the Macabre. Meg is also the author of the two novels; Daughters of Darkness and Her Dark Inheritance called "an intricate tale of betrayal, murder, and small-town intrigue" by Horror Addicts and "every bit as page turning as any King novel" by RW Magazine. Meg, also the co-host of the podcast Horror Rewind and co-author of The Science of Monsters, The Science of Women in Horror, The Science of Stephen King and upcoming The Science of Witchcraft, lives in the snowy bluffs of Minnesota.