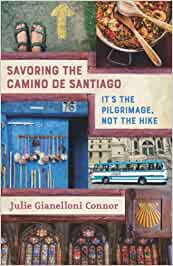 Savoring the Camino de Santiago: It's the Pilgrimage, Not the Hike By Julie Gianelloni Connor
Texas author Julie Gianelloni Connor earned her degree in English and history from Rice University, in creative writing from the University of Houston, in journalism from Louisiana State University, in National Security Strategy from the National War College in Washington, DC, and is the owner/editor of Bayou City Press in Houston. She has served with the US Information Agency in the senior Foreign Service, is the co-founder of Executive Women at State, and has participated in such fields as anti-narcotics nuclear nonproliferation, and women's issues. To date her books include THE BABY WITH THREE FAMILIES TWO COUNTRIES AND ONE PROMISE and SAVORING THE CAMINO DE SANTIAGO.
In her opening comments, Julie makes clear her message in writing this book – "You don't have to walk every step of the Camino, and you shouldn't put yourself in the mindset that you need to do so. Your goal should not be to walk every step, but rather to enjoy the Camino, to savor it, to wake up every day happy to continue your journey rather than dreading another slog down the road…A pilgrimage is what you make of it, and what makes you feel spiritual, or religious, or connected to the universe…'
A refreshing bit of information, the Camino de Santiago is an ancient pilgrimage trail that began around 820 AD. A resurrection of interest in the Camino since the 1970s has meant that more than 300,000 individuals are nowadays undertaking the pilgrimage to Santiago de Compostela each year. What Julie shares in this book is a diary, not only of her Pilgrimage, but also moments in her life that have influenced her to write. In addition to her insights and observations and spiritual experiences – moving and comforting and inspiring – Julie shares the practical aspects of the pilgrimage journey, a near how-to manual to plan for and experience the places on the trail that deserve savoring, and how to make the pilgrimage transformative. Fine writing from a knowledgeable, and indeed caring, author. Recommended.